XIAOHONGSHU: CRACKING DOWN ON FALSE MARKETING AND INCREASING REGULATIONS
---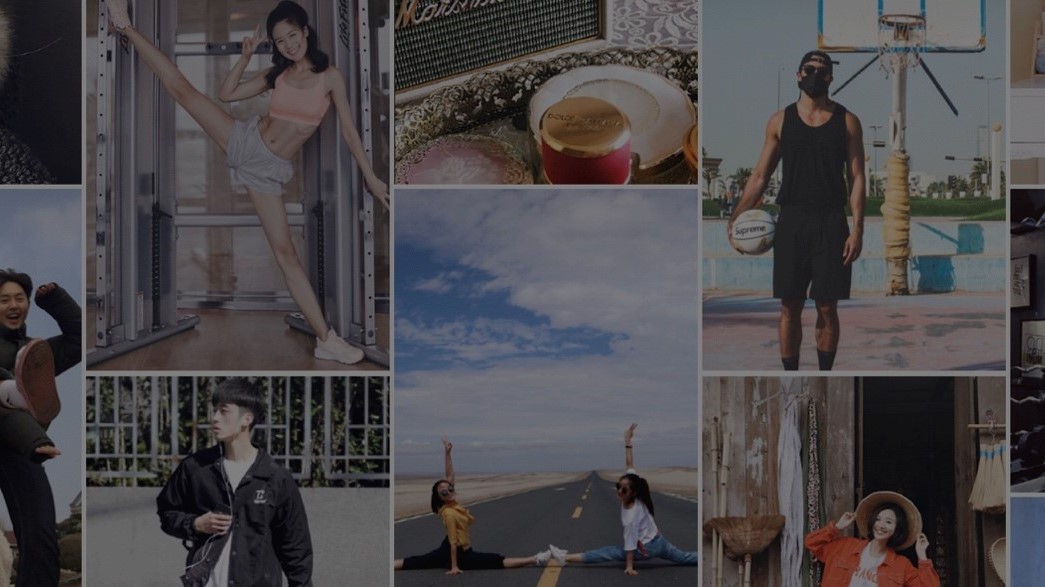 Image taken from: https://pgy.xiaohongshu.com/
With over 100 million monthly active users in 2021, Xiaohongshu  remains one of the most popular platforms in China when it comes to the sharing of product reviews and recommendations. The platform has a large female, millennial, and Gen-Z user base, which makes it a vital touchpoint for many brands to reach their potential consumers. In addition to setting up a brand account and posting their own content, brands will also frequently work with Key Opinion Leaders (KOLs) and Key Opinion Consumers (KOCs) to conduct product seeding and word-of-mouth (WOM) marketing on Xiaohongshu.
However, over the past year, Xiaohongshu has increased regulations for what brands and users are allowed to do on the platform when it comes to marketing, along with implementing several false marketing governances.
A crackdown on fake UGC content and false marketing
In response to fake user-generated-content (UGC) found on the platform and promoted to users as authentic posts, Xiaohongshu set-up "The Woodpecker Project" task team in 2019, aimed at the removal of these instances of false marketing. To effectively identify and remove false marketing behaviors in the community, the "New Model of Brand Post Recognition" initiative was launched. The mechanism established seeks to block fake content through a combination of algorithms that assess abnormal exposure and content characteristics, human review, and user feedback. Any publisher that is found to repeatedly attempt at publishing fake content will be subject to banning.
Moreover, in December of 2021, Xiaohongshu also banned several dozen brands due to their false marketing practices and engagement of fake UGC, with notable names including Neutrogena, Nivea, and Dove. These bans resulted in the brands' official brand accounts getting blocked, and any searches of the brands, in both English and Chinese, leading to the following error message in Chinese, "The brand is suspected of false marketing, and the relevant content will not be displayed." Massive annual Xiaohongshu marketing budgets by these brands were erased in a single day. However, brand flagship stores remain accessible, and consumers can continue to buy brand products.
In another situation, Xiaohongshu faced backlash in October 2021 due to the publishing of heavily filtered photos of travel attractions. Users who visited these travel locations in real life after seeing them on the platform were disappointed with the reality, leading to a wave of anger and mistrust. Subsequently, Xiaohongshu issued a statement of apology and stated plans to launch a function that would allow travel locations to be ranked according to which ones should be avoided.
All these examples demonstrate Xiaohongshu's increasing attempts to maintain the integrity and trustworthiness of its content. This is especially important as the entire platform is built on UGC (User Generated Content) and being a reliable channel through which consumers can find real recommendations. In turn, this also reflects China's increasing focus on tackling false advertising within the entire industry.
Changes to how lotteries are held on Xiaohongshu
A recent change on Xiaohongshu in late 2021 is, that brands and accounts must follow rules if they wish to hold a lottery on the platform. These changes are discussed in the table below: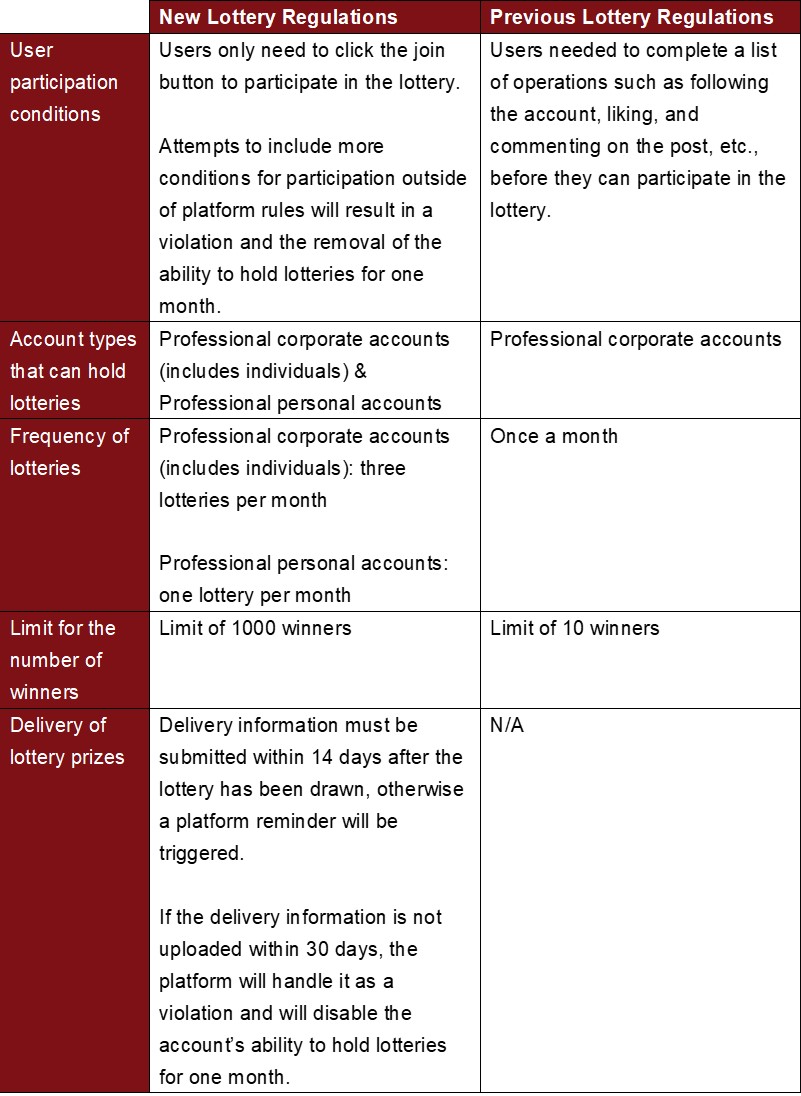 Through these changes to how lotteries can be held, brands will no longer be able to require users to follow their accounts to enter, which will reduce overall engagement with the brand and the lottery post itself. As a result, brands will need to think more creatively on how they can encourage interaction with their users to build up community and ultimately drive purchases.
Tips for Going Forward on Xiaohongshu
Ensure that you follow all regulations, processes, and guidelines when utilizing platforms such as Xiaohongshu for marketing. These regulations can change frequently, so make sure you stay up to date.
Do your due diligence prior to working with any KOLs or KOCs to ensure that the influencers are publishing high quality content, providing real data, and are seeing continued growth in followers.
Increase your quality control of any content published, especially when it comes to the language used and the claims that are made.
Xiaohongshu's stance should be taken as a reminder for brands to always stay vigilant when it comes to their marketing practices in China, and when it comes to how they choose to work with influencers across all channels and consumer touchpoints.
How Melchers can support foreign businesses entering e-business in China
China's appetite for foreign brands and the spending power of Chinese shoppers offers an attractive market for foreign businesses. And the speed at which China's e-business is evolving makes it a fertile testing ground for using e-business platforms to export to other markets. But adapting to local needs and habits is vital.
Creating brand awareness is essential to success. Choosing the right social media, search engine and sales platforms are only some of the aspects which need to be considered. Especially for small and medium-sized enterprises the costs and challenges of doing business in China can easily be overwhelming. Choosing the right partner to be successful online will be paramount.
To learn more, please contact us at [email protected].