Who We Are
The Melchers China organization is a member of the globally operating Melchers Group. Establishing its first Asian branch in 1866 in Hong Kong, Melchers is engaged in doing business with China ever since.
It is our mission to create long-term value through customer-centric and customized approaches. Alongside the development and transformation of the Chinese economy, our product offerings and service solutions are reflecting China's change ever since. Rooted in our entrepreneurial mindset and openness, we seize market opportunities without industry boundaries or predefined constraints. The constant transformation and extension of our industry's competence demonstrate the organization's ability for foresighted and agile market adoptions on the one hand and an innovative customer and partner-centric management approach on the other.
Leveraging over 155 years' experience of doing business in China and synergies within the Melchers Group, we strive to be your local partner in China to bring your business to the next level.
WHAT MAKES US UNIQUE?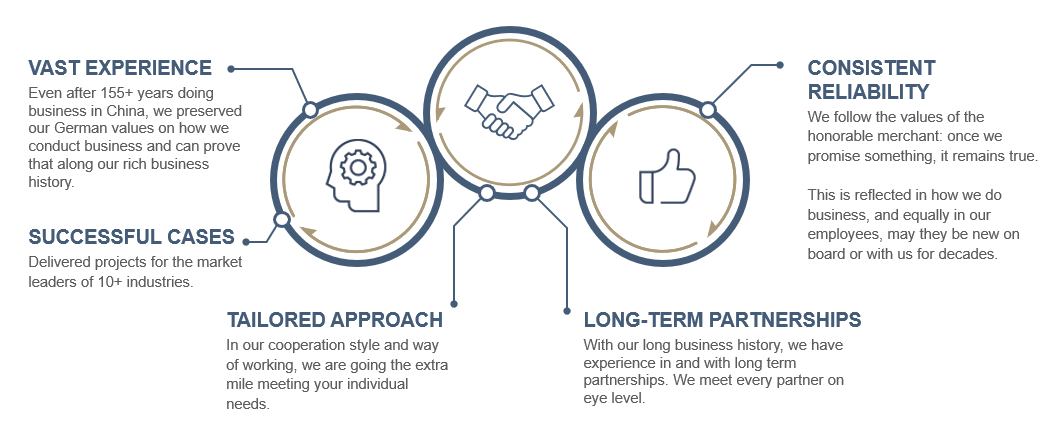 ---
Management
The complexity and diversity of business operations within the Melchers Group calls for a decentralised management strategy. The management of the Melchers Group gives its different companies maximum freedom of action in order to adapt to local market requirements and maintain their innovative strength. While operating as a global player, we also maintain the tradition of the "honourable merchant". We have had a presence on the international markets for more than two centuries, offering cooperation and collaboration based on mutual trust. Our reputation is the consequence of core values which we seek to apply to our everyday business activities. The China management team is headed by international managers with a diverse background and experience across multiple industries and markets. They have all the rights and obligations of operational management and are responsible for their business results themselves. This is the basis on which we ensure competitiveness at local level and hence the continuity of the Group.
---
Vision
We work together to become a leading partner in building and developing a lasting business across industries, applications and continents, while positively impacting the society we relate to.
---
Mission
We are the long-term oriented holistic partner for foreign companies doing business with China, that provides value-added solutions and services tailored to their individual needs across a wide spectrum of industries and sectors.
---
Core Values
Responsibility
We share responsibility for the success of our clients and business partners. We proceed carefully, diligently and with a strong sense of ownership.
Reliability
We develop partnerships over time and strengthen them in different stages. Our support for clients, partners and employees remains strong even in difficult times.​
Openness
We practice a culture of openness, characterized by honesty and respect – our aim is solid working relationship based on mutual trust and feedback; where everyone is treated fairly and where everyone has an opportunity to develop and contribute.
Determination
We want to play a part in shaping the future. Besides the entrepreneurial know-how, we have the necessary focus and perseverance.
---
Value Proposition
Full access to China wide Sales, Service & Supplier network
Experienced, highly-qualified employees
Customization of China strategy
Over 150 years of China expertise and market knowledge
Long-term orientated trustful partnership