Explaining Little Red Book and Its Market Potential for Premium Brands
---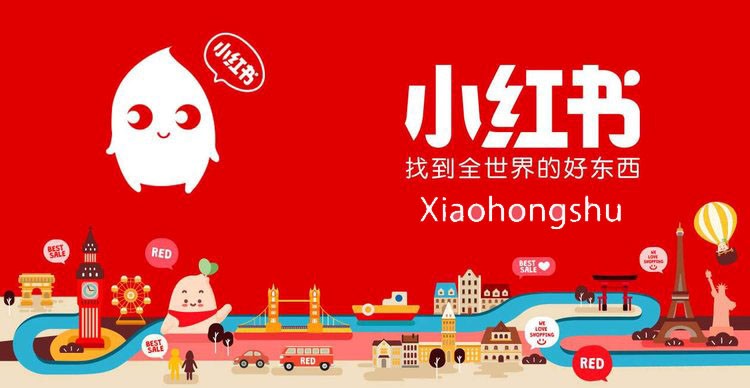 E-commerce revenue in China is expected to grow to USD 1,309.5 billion in 2024 (Source: Statista.com), and a large part of the growth is expected to come from the fashion and luxury industry. One of the most popular social commerce platforms in China, Little Red Book (Xiaohongshu) is an important channel for many Chinese consumers to start their pre-purchase journey. Now Little Red Book has become a dominant part of the China luxury equation.
In this article, we look at Little Red book's phenomenal growth rate, and how premium brands are wishing to use it to help drive their growing presence within the Chinese market.
What is Little Red Book and how it works?
Established in 2014, Little Red Book, a social e-commerce app has quickly risen to become one of China's most trusted social shopping platforms.
Besides Tmall Global and Kaola, Little Red Book, JD Wordwide and VIP are now the leading platforms in China's cross-border e-commerce market. Compared with Kaola for example, Little Red Book is way ahead of Kaola in terms of user growth after it reached the 100-million-user milestone in May 2018. It maintained double-digit growth rate since the second half of 2018, while Kaola registered mostly single-digit growth in the same period.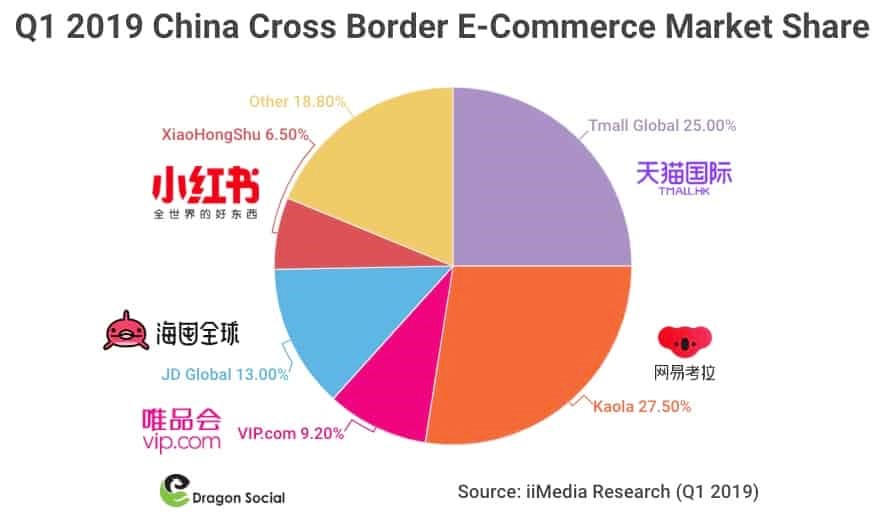 Source: iiMeida Research
Instead of cheap wholesale goods, Little Red Book offers premium quality and exclusivity. It has built a highly-engaged community of savvy users who research and review products extensively on the app and allows users including well-known influencers to post and share product reviews, travel blogs, lifestyle stories, among others, via short videos and photos. RED Mall is Little Red Book's self-operated e-commerce platform, which sells overseas products to Chinese customers. Little Red Book is an astonishingly successful example of combining social media with e-commerce, especially when such an idea of social e-commerce has never been materialized in the western world long after it was first proposed.
 Brands are running on Little Red Book
Little Red Book is popular not only with Chinese netizens but also with different brands for its unique marketing advantages. First, Little Red Book brings with it a big young user base with high purchasing power. According to its official website, Little Red Book had 300 million registered users as of July 2019, with those born in the post-90s and post-95s as the most active users. Also, over 60% of its users are under 35 years old, while more than 80% of them are female. Therefore, Little Red Book is an ideal platform for brands that would like to target young and female consumer groups.

Source: Hi-Com
Second, its thriving online community sets it apart from other e-commerce platforms. As mentioned, it may not be the only social shopping site in China, but one of the most successful ones. Little Red Book encourages and rewards high-quality content posts and videos and emphasizes "authenticity". It also offers premium user experience by using a recommendation algorithm to create a customized homepage based on users' browsing and search history. As a result, it has successfully attracted a large number of highly loyal users, which is, of course, good news for brands looking to advertise and sell there. Third, it closes the loop through a direct link to an e-commerce store. RED Mall, allows users to purchase products directly from merchants after reading reviews. Users don't have to worry about the authenticity of the products, which is, unfortunately, a huge concern of China's e-commerce industry. For brands, they can set up an official account or online store at the site to sell to and interact with the customer, which is a very effective way to boost market awareness and sales. Little Red Book also provides brands with logistics services, customer services and marketing support including data insights and in-app advertisements.
 Examples of premium brands' marketing successes on Little Red Book
In March 2019, Little Red Book launched its brand account, a feature aimed at connecting brands with influencers and KOLs to arrange for sponsored content. Since the unveiling of this service, many global luxury brands (including YSL, Shiseido, and Fendi) have entered into official collaborations with KOLs, helping to drive additional interest in their products (Source: Link fluence).
There are tons of examples of premium brands' marketing successes on the platform. For example, Elizabeth Arden, a US anti-aging essence brand chose Little Red Book as its platform to boost its popularity and sales in China. At the beginning stage of its promotion, the brand cooperated with several well-known Chinese celebrities who had done particularly well on Little Red Book for their skincare and cosmetics-related posts and videos. The chosen celebrities tried the brand's star products live with their followers while using the tag "anti-aging essence with Vitamin A; start your anti-aging journey now" to encourage users to discuss and share their own thoughts and stories. The brand also issued official promotion articles to set the scene for later promotion. At the later stage, the brand worked extensively with KOLs and influencers with different sizes of followers on the platform to further expand the buzz created by celebrities, which was supported by the move to encourage and reward regular users to write their own authentic reviews about the product using the above-mentioned tag as well as tags of the brand's name, relevant celebrity names, etc. Finally, the last stage was all about a sales promotion. The brand continued to work with the celebrities and KOLs by giving them privileges to gift their fans and followers with the product, thus not only boosting the popularity of the influencers but also that of the brand. This way, more users got to try this product for themselves and write their thoughts about it afterward. Little Red Book helped the brand sift out the good reviews and enabled them to attach purchasing links. The whole set of branding and promotion moves brought the brand very positive and effective marketing among Chinese consumers as they had wished for. As a result of its successful campaign on Little Red Book and promotion strategies through other channels as well, by the end of June 2019, Elizabeth Arden reported doubling of its online business performance in China compared to the same period in 2018. Besides the astonishing sales figures, the brand now enjoys much bigger popularity among Chinese consumers especially young people, which can be seen as a huge victory for a brand that once only catered to the older demographic.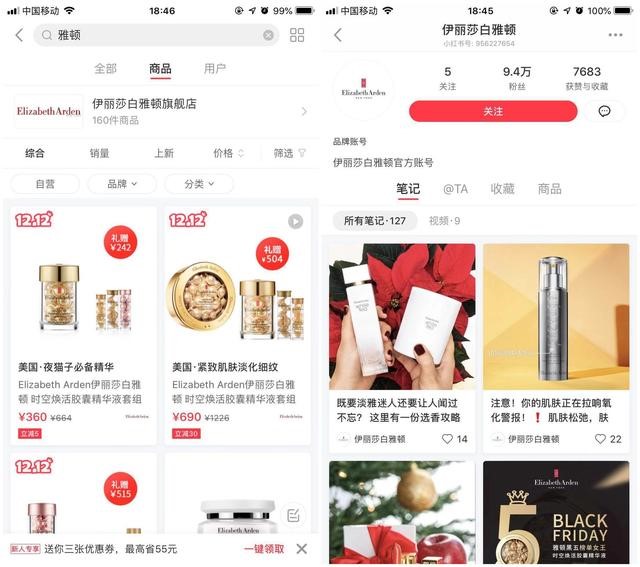 Source: Little Red Book
According to researches done by JD Digits and Ogilvy China, Little Red Book still carries huge market potentials for premium brands. In the first place, Chinese consumers will continue to evolve especially against the backdrop of the ever-increasing trend of social networking and online shopping. On the one hand, as per capita income increases in China, Chinese consumers have more and more demands towards high-quality goods and products. The last but not least, the Internet offers large amounts of fragmented information to users, pushing them to form demands for more diverse and niche products, which can only be met by premium brands. Through its unremitting efforts to build a community of such sophisticated buyers, Little Red Book is and will continue to be undoubtedly a good choice for premium brands' marketing. Little Red Book has shown great momentum to keep on innovating and improving its features based on the latest market trends. Right now on Little Red Book, there are more than 55 vertical interest points to help users find their social and consumption circles and to help brands targeting users more accurately. This number is still on the rise, which partly explains its strong anchoring effect for users and brands. Furthermore, it continues to update its AI, big data and cloud computing technologies, and it is very quick in transforming those technologies into actual features of its app for user experience and brand marketing. Little Red Book is still exploring frontiers of those technologies by working with existing titans in those fields. Therefore, from what we can tell now, Little Red Bood is and will continue to be a great social e-commerce platform with huge market potentials for premium brands.
 How Melchers can support foreign businesses entering e-business in China
China's appetite for foreign brands and the spending power of Chinese shoppers offer an attractive market for foreign businesses. And the speed at which China's e-business is evolving makes it a fertile testing ground for using e-business platforms to export to other markets. But adapting to local needs and habits is vital.
Creating brand awareness is essential to success. Choosing the right social media, search engine and sales platforms are only some of the aspects which need to be considered. Especially for small and medium-sized enterprises the costs and challenges of doing business in China can easily be overwhelming. Choosing the right partner to be successful online will be paramount.
To learn more, please contact us at [email protected].