The Store of the Future – Post COVID-19
---
The outbreak of COVID-19 is transforming the economy and consumer habits that will have a long term impact on how people shop and what role retail stores will play in the future. Considering these trends, we imagine what the store of the future will look like.
Virtual Stores and Online/Offline Integration
The outbreak of COVID-19 has made it evident that operations in different industries need to be prepared to quickly shift their offline strategy to an online strategy with digital platforms during times of crisis. Traditional offline retail and marketing channels include brick-and-mortar stores, pop-up stores and trade shows, among others. While digital channels played a supportive role for achieving effective retail strategy in the past, they will soon become as important as offline channels and partially replace offline functions in the coming years.
Virtual retail stores, that are designed to either look like real stores, or have a conceptual high-impact approach, will complement offline stores. Virtual retail stores are spaces where consumers can walk through, browse the products, learn about new collections or the brand, and be exposed to promotions. Interactive features and links to e-commerce websites or WeChat mini-programs, allow consumers to immediately purchase products.
The required flexibility of retail channels made apparent by the virus outbreak and the current economic crisis, exposed the need for a much better definition of the purpose and functionalities of each channel as well as a better technological integration. Key functionalities of brick-and-mortar stores like retail sales and promotional events will need to be flexible and easily movable between offline stores and online channels as required.
Offline stores will continue to play an important role in retail strategy by providing contrast and excitement through tactile stimuli that online experiences are lacking. Virtual retail stores can be built fast at a limited cost and with essentially no design limits. They will become an integral part of the retail strategy and provide brands with the much needed dynamic to satisfy the Chinese consumer's hunger for content post COVID-19.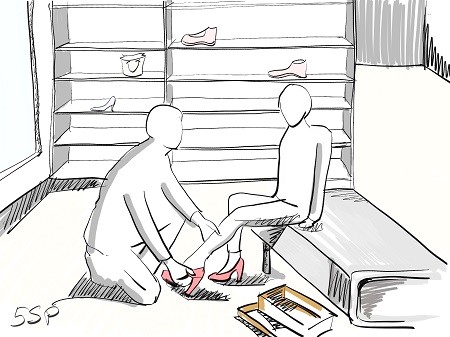 Image Source: 5 Star Plus Retail Design
Increased Level of Personalization & Customization
Increased time at home has increased the level at which consumers online shop. Their favorite online stores have saved their personal style preferences and can send them customized messages with product recommendations. They can also interact with both virtual and real shop assistants and stylists through the app. Besides sharing styling advice and product recommendations, the stylists will offer to take care of the planning and management of the virtual wardrobe or product portfolio of consumers. The value of this service is that individuals do not need to dedicate time and efforts to think about what they need or should wear at certain occasions in the future, as well as, professional styling advice for free.
In the offline retail store an AI store assistant supplements the customer with product information, recommendations, answers questions as well as books orders of customized products that have a different color, stitching, size or accessories.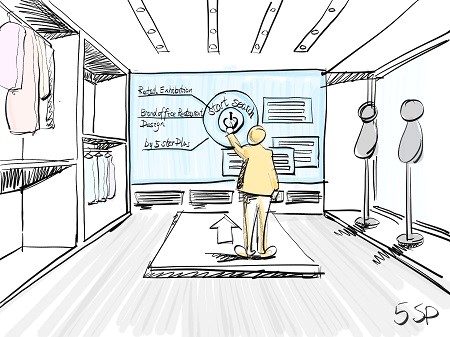 Image Source: 5 Star Plus Retail Design
Focus on Health Aspects
Post COVID-19, retail brands will have to ensure their stores are safe and make certain health related information available to consumers. This might include the body temperature and good health status of employees being on duty and working in the store on that day, which will be visible on a screen close to the entrance. This concept is somewhat similar to the kitchen hygiene requirements which are already mandatory for restaurants in China. At the moment, in China, food delivery apps already display the current body temperature of the person delivering the food.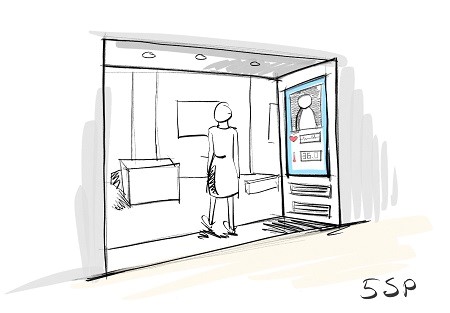 Image Source: 5 Star Plus Retail Design
When consumers enter the store of the future after COVID-19, their body temperature is registered. Some retail brands might go even one step further by screening vital functions. When emergencies happen like a customer being of ill health or having a heart attack, the AI system in the store automatically calls an ambulance. Retail stores will also have hand sanitizer and facial masks ready in the stores in case of need.
In terms of shopper psychology, consumers will be more aware of the shopping process, which may affect their overall interaction with the brand and its products. Making appointments in advance to visit stores and try the products, and ensuring that they shop at times where the store is less crowded are likely to be new consumer preferences.
Shopping for Personal Experience and Indulgence
The above factors will lead shopping in offline retail stores in malls to become a more conscious, often pre-planned process which consumers look forward to thanks to the unique personal interaction with the brand, sales consultant and the products.
The shopping experience and the interaction with a certain product in a store will become something more appreciated; a special moment. The quality of personal service will increase and be a valued factor in purchase decisions.
Those retail brands that have realized the importance of authenticity, sustainability, and have made the effort to build a strong brand identity, will be the most successful ones. They will be the ones that have gained larger brand loyalty from consumers, which makes them feel safer going to these store and buying from this particular brand.
Brick-And Mortar Stores become Multi-Purpose Spaces
A big part of offline events will be replaced by digital events. Live streaming, interaction supported by virtual spaces and video conferencing technology are already becoming more important today and will further increase in importance. Retail stores in malls will have an important but slightly changing role:
They will become more conceptual, experiential spaces and include artistic, lifestyle, or food & beverage consumption elements to complement product displays as part of the overall brand representation.
Stores will sometimes host events that are streamed live to customers at different locations. Brands will also host offline events with a limited amount of VIP guests as well as more interesting promotion designs, that span through various online and offline channels.
Design Challenges
What does all of this mean for retail designers? With the adjusted overall retail strategy of brands and changing role of offline stores, retail design agencies need to develop new store concepts and propose solutions to some of the existing challenges.
One of the biggest challenges will be the clear definition of the purpose and functionalities of offline stores. Flexibility will be one of the key aspects, which in terms of design strategy is often contradictory with creating a strong brand experience, maximization of products in a space as well as cost control.
Lighting concepts of stores might increasingly include ultraviolet light that is switched on a few times each day for a short period of time to kill germs, bacteria and viruses.
Stores will also need to be designed in a way that seamlessly integrates online channels and technologies. In-store technology that explains products by scanning QR codes, screens and AR will become standard.
We believe that COVID-19 is giving brands an opportunity to review their current retail strategy and strengthen it. The creativity and development that are currently happening in the industry are actually pretty exciting. We look forward to a future with smart retail brands that thrive, online and offline store concepts that make sense economically, and consumers who enjoy the brand experience and its products.
This blog post was originally published by Melchers' Retail Partner 5 Star Plus Retail Design, an interior design company specializing in the branded design of retail stores and restaurants. The original post can be found here.