Register for our webinar: Capturing the Medical Devices market potential in China
---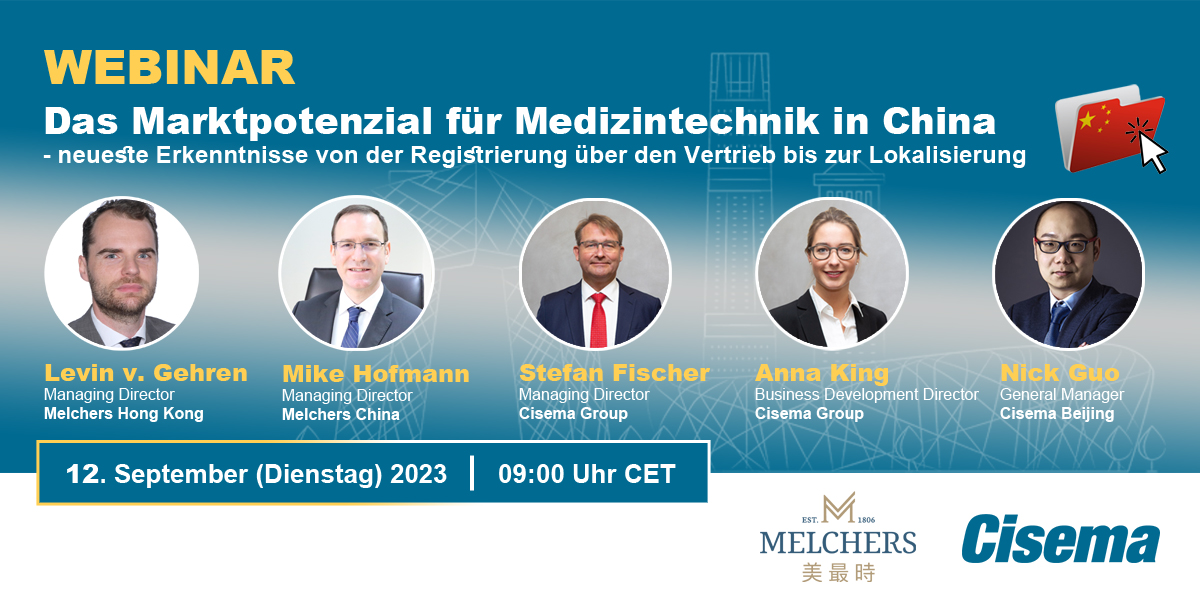 Capturing the Medical Devices market potential in China is often discussed amongst overseas MedTech companies. On September 12, 2023, Cisema and Melchers will be presenting in a webinar on this hot topic, and our panel speakers will share insights on medical device registration, distribution and localization in China.
The webinar will answer some of the most frequently asked questions about efficient pathways to obtain medical device registration approval in the Chinese market, and key considerations for already registered products. Our speakers will also share views on the complications of the current regulatory framework, and best strategies to sell into the market.
Details
Date: September 12, 2023 (Tuesday)
Time: 9:00am-10:00am CET
Language: German
Target Audience
DACH medical device manufacturers looking at how to enter the China market
Companies not satisfied with the existing situation or looking for localization or registration renewal in China
Agenda
Melchers: China medtech market overview
Cisema: China medtech regulatory framework, registration pathways for medical devices, certificate maintenance (change and renewal)
Cisema: local China agent (NMPA Legal Agent) requirements and change, alternative entry pathways, localization
Melchers: recommendations and insights: go-to-market, distribution and localization strategy
Speakers:
Levin Gehren, Managing Director, Melchers China Hong Kong Branch
Mike Hofmann, Managing Director, Melchers China Beijing Branch
Anna King, Business Development Manager, Cisema Group
Stefan Fischer, Managing Director, Cisema Group
Nick Guo, General Manager, Cisema Beijing
Registration
Click here to register for FREE.
Do you want to know more about our offerings? Go to Healthcare • Melchers China (melchers-china.com) for more information.