Perspective in the Middle Kingdom?! Interview with Melchers on Healthcare Industry in China
---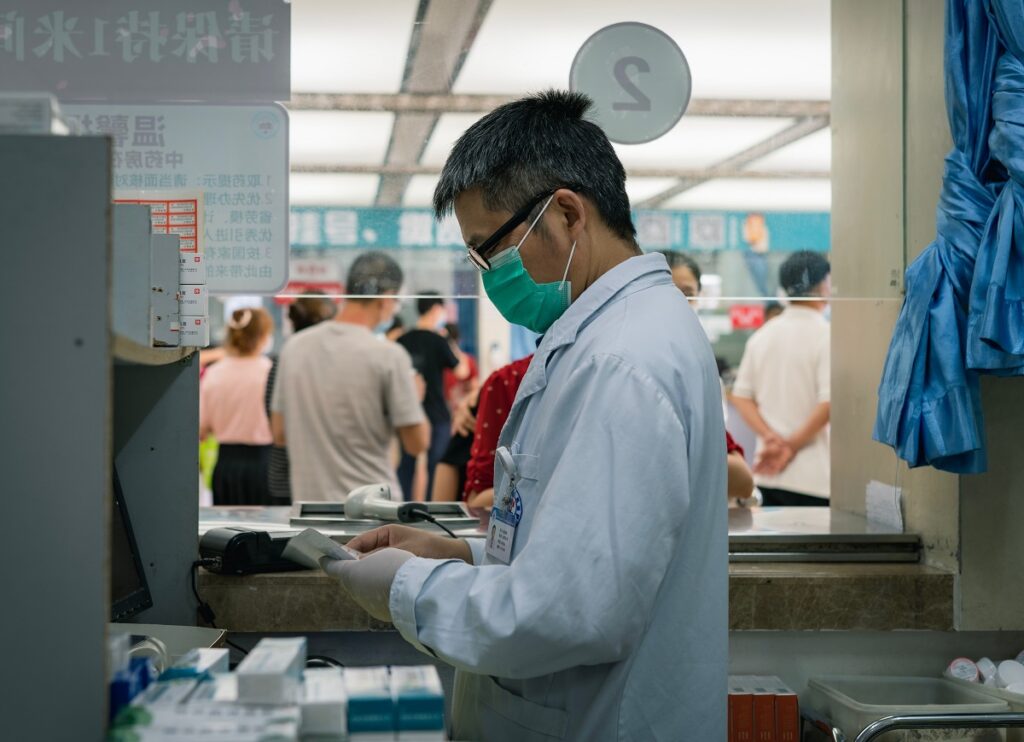 The healthcare industry in China is a continuously growing market – with great potential. Here, too, society is aging, and the interest in innovations from the pharmaceutical industry and medical technology is correspondingly pronounced. Is the Chinese market exciting for our industry?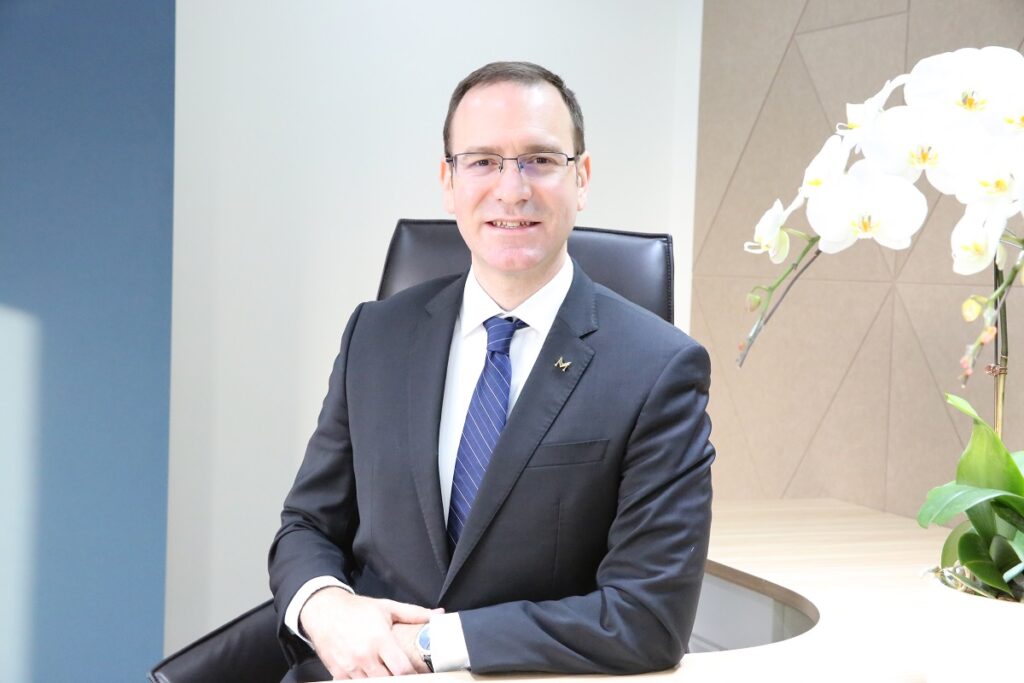 Mike Hofmann, Managing Director at Melchers China in Beijing. Melchers China is part of the globally operating Melchers Group with a broad portfolio of services and trading activities in a wide range of business areas. The Bremen-based company has been active in China since its first Asian branch was founded in Hong Kong in 1866.
China's innovative power in these areas is high – and so is the acceptance of local developments in the Chinese market. "Locals first" applies to many products, so market development for foreign companies is time-consuming and expensive. Nevertheless, it is worth it, as Mike Hofmann, Managing Director of Melchers China in Beijing, can tell us. The 38-year-old has lived and worked in China for over 15 years, almost five years of which were with Melchers, where he supports healthcare companies in their expansion to China.
Mr. Hofmann, why is the Chinese market so exciting for German companies in the optics/medical technology sector?
Companies considering expansion should definitely set their sights on China – and the wordplay could hardly be more appropriate in this case. Some segments are forecast to grow strongly in China over the next five years and where attractive sales markets are emerging. In the field of ophthalmic optics, the prospects are promising. By 2027, a market volume of almost 19.4 billion euros is expected to be reached, corresponding to an annual sales growth of more than seven percent. Long working hours in front of a screen and too little sunlight have led to an extreme increase in the rate of short-sightedness in recent years. Among 15-year-olds, 47 percent are already short-sighted; among students, the figure is as high as 86 percent. The Chinese Air Force has already warned that finding suitable pilots is becoming increasingly difficult, as hardly any candidates still pass the required eye test. German ophthalmic optics enjoys an excellent reputation in the Chinese market, from which companies can benefit in their market development.
That all sounds very good and almost tempting. However, the perception in this country (Germany) is partly different – at least among the public. Keywords are long lockdowns, high dependencies, and declining economic performance. How does that fit together?
Yes, the past few years were challenging in China with its strict zero-covid policy. However, China's economic output is not declining; only growth slowed during the Corona pandemic. In addition – and all forecasts currently speak the same language here – the healthcare market in China will grow faster than the gross domestic product until 2030. In the healthcare sector, dependencies exist in procuring active pharmaceutical ingredients but not on the sales side.
For many years, China was considered an important driver of innovation. Why, then, is the demand and interest in, for example, German optical innovations so high? Is China's innovative power not enough?
That is true – and then again, it is not. Of course, innovations are developed and promoted locally, but German manufacturers of ophthalmic products enjoy a high reputation. During the debate on lessons to be learned from the pandemic, people sometimes thought that Chinese manufacturers dominated the pharmaceutical and medical technology industry. In reality, China is dependent on imports, and Germany and the United States are the major source countries for pharmaceutical products and medical technology, respectively. However, the traditional export business to China is becoming increasingly difficult, as medical product approvals are becoming more time-consuming and China is promoting a "buy local" policy and volume-based procurement. This builds up localization pressure, which will serve to lower costs, reduce import dependency and promote local manufacturers.
So, is it easier to produce and distribute in China locally than to export to China?
From a future perspective, the answer is affirmative, provided that localization is well planned in advance, closely monitored, and the approval process successfully completed. If the latter has not occurred yet, it should be professionally managed before market entry, as it takes up a lot of time and money. However, what is in demand today may no longer be necessary three to five years after approval. Accordingly, a good market analysis, trend research, and knowledge of the Chinese market are essential. This requires much experience, insight, and also local contacts. A partnership with a local company, for example, within the framework of a joint venture, can make perfect sense and is also in line with the Chinese strategy of "locals first."
In other words, does that mean that if you want to expand to China, you have to bring partners into the company in order to be able to operate successfully on the market? Aren't companies making a big commitment?
It depends. Of course, not every partnership – and every partner – is suitable for every company. We all have heard stories of failed joint ventures in China. It has to be a good fit and on different levels. Trust and protection of the core technology are essential! However, we at Melchers China are seeing a kind of rebirth of the joint venture, with the trend toward so-called "three-party joint ventures." In other words, a partnership between a manufacturer, a Chinese partner, and, for example, a market expansion partner like Melchers. Especially medium-sized companies increasingly prefer this approach, as we can stand by them as a transparent and reliable partner in the joint venture regarding management representation, compliance, and corporate governance, and can also offer services such as accounting and personnel management if required. In this way, we share the entrepreneurial risk and act as a sort of pilot in the alliance. As a traditional house with Hanseatic roots, we represent corresponding values – also entrepreneurially – but at the same time, we are deeply rooted in the Chinese market.
In retrospect, this model often had another advantage: due to travel restrictions during the Corona pandemic, for example, it was sometimes impossible to travel to China and visit partners or branches, to fulfill ownership obligations or optimize processes. Those who had a strong partner in China had a competitive advantage. In any case, a company should always keep itself informed about the dynamic developments in China and regularly review its own China strategy.
This interview was published in German in the German Industry Journal "Der Augenoptiker" 05/2023 edition. This is a translated reprint.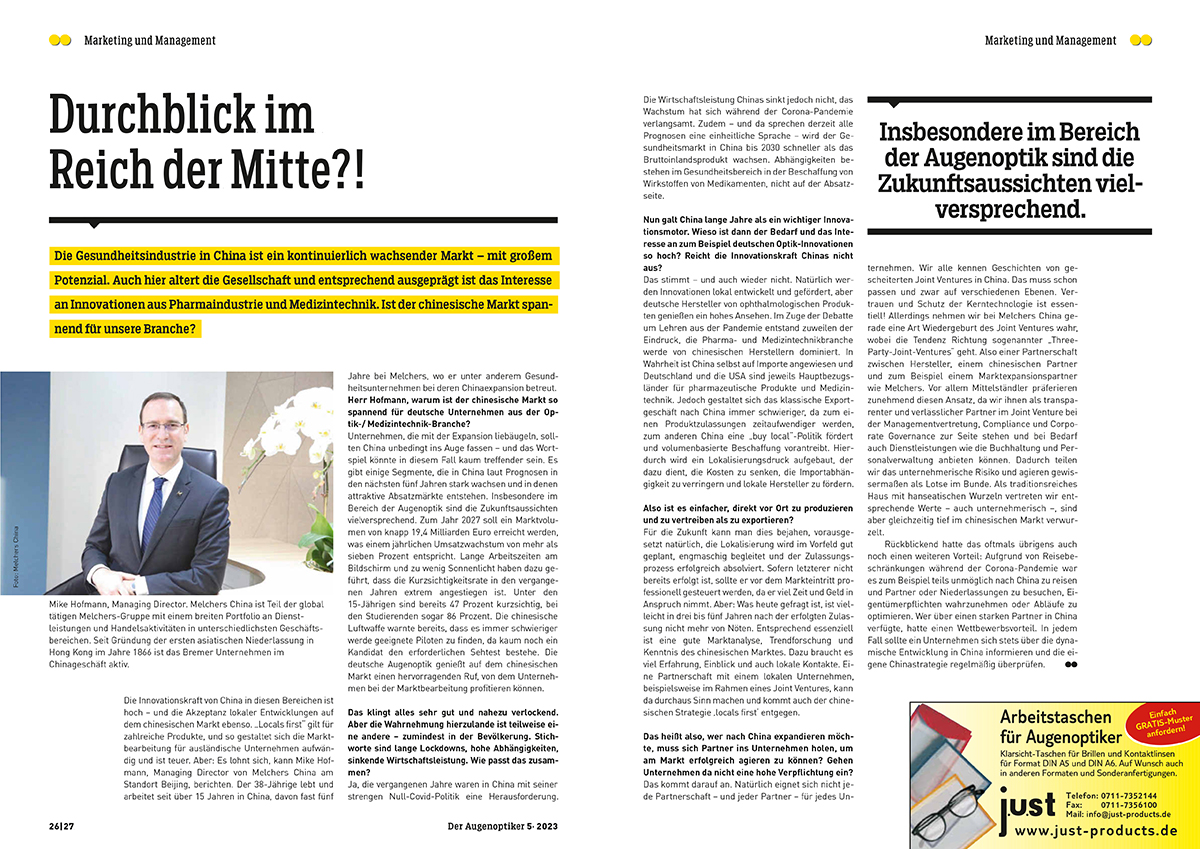 How Melchers supports you in China

With 155 years of business experience in various sectors in China, we know that every company needs its unique approach to the Chinese market. China's business world is continually changing and varies significantly from region to region in terms of prosperity, regulation, openness to business, and other factors influencing the business environment. Due to its size and diversity, China can hardly be compared to any other country in the world. This is also true for the health care sector. Our longstanding experience and knowledge along the value chain of the Chinese healthcare industry through sales, management, and compliance activities, as well as corporate services, enables us to offer tailored and brand-oriented market approaches for all our partners. We help our selected brand partner to understand the Chinese healthcare market, quantify the scale and the competitor landscape, and identify short, mid, and long-term opportunities for market growth.

We take equity shares in our partners' China operation with a focus on long-term partnerships, if desired.

Contact Melchers today via [email protected] about establishing a presence or doing business in China or go to Healthcare • Melchers China (melchers-china.com) for more information.