Melchers China participates in the UK retail delegation's visit to Hainan
---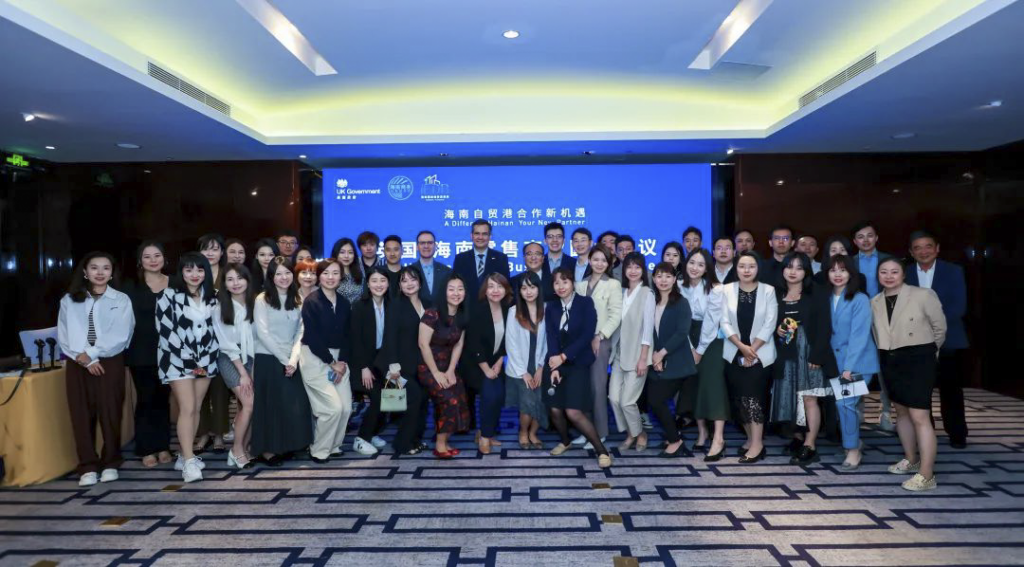 From March 14-16, 2023, a delegation of 12 representatives from leading UK retail companies, led by the UK Department of Business and Trade (DBT), traveled to Hainan, including Haikou, Wanning and Sanya, to explore business opportunities. They met with Hainan's local government officials and renowned enterprises, and visited the key duty-free operators in the three cities. The delegation consisted of high-end British brands, covering consumer sectors such as apparel, spirit, shoes, toiletries and fragrances. As the exclusive distribution partner of the British handmade footwear brand Tricker's in China, Melchers China participated in the delegation's activities in Hainan.
The first day's agenda was kicked off by a UK-Hainan Hainan Retail Business Roundtable, which was jointly organized by the UK Department of Business and Trade (DBT), the Hainan Provincial Department of Commerce and the Hainan International Economic Development Bureau (HIEDB). Following the welcome speeches from Mr. Gong Qijun, Deputy Director of the HIEDB, and Mr. Sohail Shaikh, Director and Minister Counsellor of DBT, the HIEDB explained the opportunities and policy advantages of Hainan Free Trade Port to the participating UK brands. The participants also listened to a report by KPMG, one of the Big Four international accounting firms, on their analysis of China's retail market after Covid. Mike Hofmann, Managing Director of Melchers China Beijing branch, spoke on behalf of the company and participated in the discussion. At the end of the meeting, the delegation members had the chance to meet with representatives from 12 local high-end commercial real estate companies to learn first-hand information about the retail industry in Hainan.
Hainan now hosts 12 duty-free malls and since July 2020, individuals have an annual 100,000 RMB quota for duty-free shopping of 45 categories. Furthermore, Hainan intends to close all customs offices by 2025 in order to become a completely duty-free market.
During the three-day trip, the delegation visited a number of duty-free shopping malls in Haikou, Wanning and Sanya, including Haikou International Duty Free Shopping Complex, GDF Plaza, Times DF Mission Hills, Wangfujing International Duty Free Port, CDF Sanya International Duty Free City, Hainan Tourism Duty Free and CNSC Sanya International Duty Free Plaza. In addition to the visit, meetings were organised where the representatives of British brands could have in-depth exchanges with the management and buyer departments of these duty-free operators.