Discover the evolution of e-commerce: China in 2020
---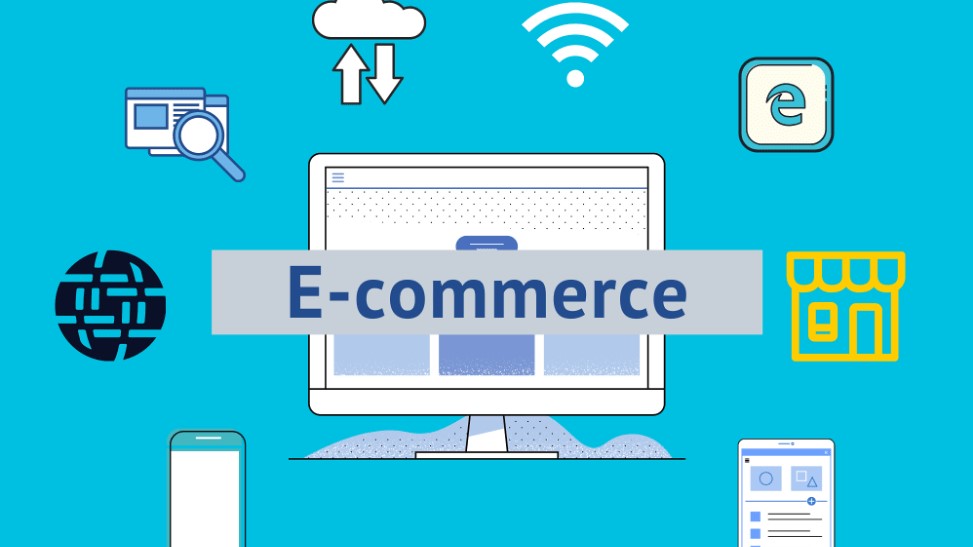 It probably comes as no surprise that e-commerce has also been hugely affected by the global pandemic in 2020. Many experts agree that consumer behaviour has changed significantly in the first quarter of 2020 as a result of Covid-19.  However, despite the strict restrictions, it is clear that e-consumers have now adapted to the current global situation. They are embracing new online shopping habits.
China has rapidly become one of the biggest retail E-commerce markets in the world. Which as a result, has created interest from foreign brands seeking new opportunities to enter the Chinese market.
Thanks to social networks, e-commerce has been able to develop more and more. By making easier, promoting, communicating and online purchasing. In addition to this, Chinese apps such as WECHAT, have now made it possible for consumers to buy products directly.
1. E-commerce is a growing sector
E-commerce is a booming sector that offers a completely different customer experience to any physical store. Online consumer behaviour has drastically changed due to the explosion of social media. But also with its advanced features, offering faster online exchanges to enrich the customer's experience. The opening of new online businesses often encourages e-commerce companies to adapt their digital strategies according to their target sector and preferential region. Whilst many companies also understand the importance of localizing content in order to appeal to and to be understood by their target customers.
2. Changes in consumer behaviour
E-commerce has evolved a lot since it was first introduced. It still continues to grow as a result of advanced technology and social network growth.  Unsurprisingly, the development of e-commerce has altered the way in which consumers shop online. Therefore, meaning that e-merchants must also adapt to these customer needs and requirements, in order to get more business and to remain relevant online. Therefore, by analysing, understanding and identifying customer needs, it will help you to:
–  meet customer expectations
–  attract more visitors
–  improve and optimize conversion rates
It is also clear to see that e-commerce is maintaining its dynamism.
It's driving by the increase in the number of buyers and the frequency of purchases, as well as the development of new offers and new services for customers. This growth also benefits from the increase in mobile purchases. Revenues from online sales continue to record double-digit growth. The €100 billion mark was reached in 2019. Since then, mobile channels have continued to grow and now account for 22% of e-commerce site revenues.
Research has shown that 35-50 year-olds are today's premium online customers.
There is a large percentage of males searching for high-end electronic products. It is also important to consider the Millennials (also commonly known as Generation Y or the people born in the 1980s and early 1990s) as they too are key consumers. Although they behave slightly differently to other generations. For example, Millennials are more difficult to retain because they have a strong tendency to cross-border shop.  It increases the competition for e-merchants and the need for online e-commerce businesses to differentiate itself from competitors.
3. So what does the Coronavirus mean for brands on social networks?
Online consumers have changed their e-commerce consumption habits as a result of the COVID-19 pandemic. This particular situation makes online communication on social networks more complicated than usual. Brands may feel too uncomfortable and assume that people might not pay attention during this time. Therefore, they decrease activity on social networks.
What should online brands do during this time? In China, 85% of consumers said that they spent more daily time on a screen during the pandemic. Whilst 84%, took the opportunity to try out new programs and services during isolation and quarantine.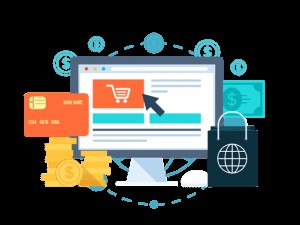 (Image source: Hi-Com)
China in 2020
In today's current climate, Chinese consumers are still shopping online.  Their online purchases indicate that they plan to stay in their homes for the foreseeable future, therefore making it even less likely that consumers will change their shopping habits and resort back to physical stores in the post-virus world.
China has rapidly become one of the biggest retail E-commerce markets in the world, which as a result, has created interest from foreign brands seeking new opportunities to enter the Chinese market with minimum effort and maximum return.
With annual online sales: $672 billion.  
As an outsider, entering the Chinese market may seem intimidating and overwhelming due to its rich eco-system of platforms and apps. In this article, I will discuss how to choose the best E-commerce channel for your brand in China.
Every company hopes to be successful which often encourages brands to use only the biggest and most popular platforms to do so.
Furthermore, popular Chinese platforms can sometimes be ineffective as they often require a lot of investment for traffic and marketing, yet, not every company is willing to spend hundreds of dollars when entering the Chinese market.
Here is a list of the 5 best Chinese E-commerce platforms for brands in 2020 and their important statistics: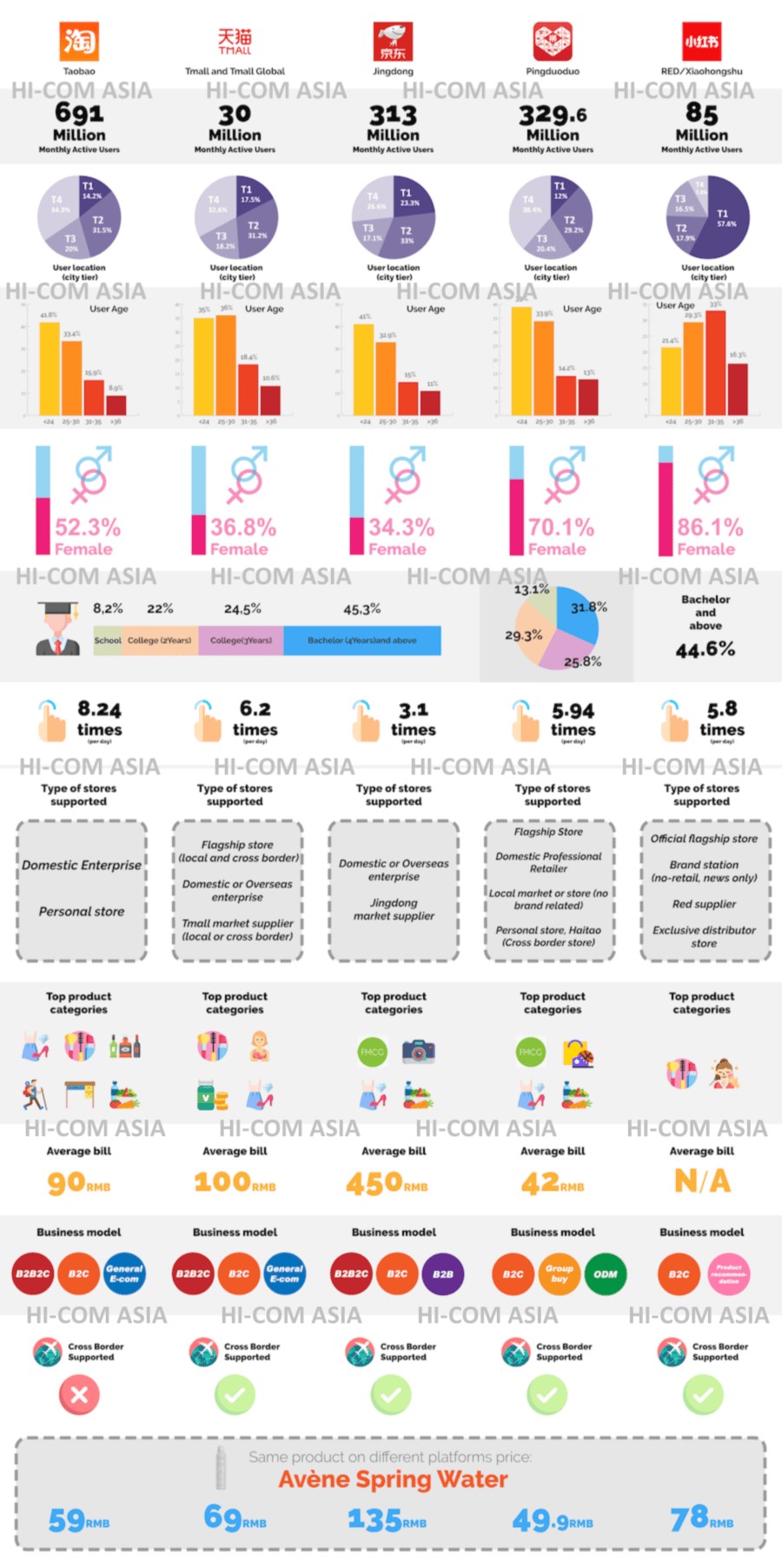 (Image source: Hi-Com)
HI-COM's Chinese E-commerce platforms comparison 2019
Different types of Chinese E-commerce platforms
The Chinese market has developed lots of successful E-commerce platforms. All of which, cater to the needs of the consumers and products.
Most brands tend to approach one of China's most popular platforms, Tmall. Tmall is an Integration of the Taobao app. However recently, brands are reporting more and more that their sales are decreasing dramatically on Tmall. Those who set up their store on this platform without fully researching if there is a demand for their product will struggle.
In 2018, Kantar Media released a whitepaper to show which businesses best suit the different types of E-commerce platforms: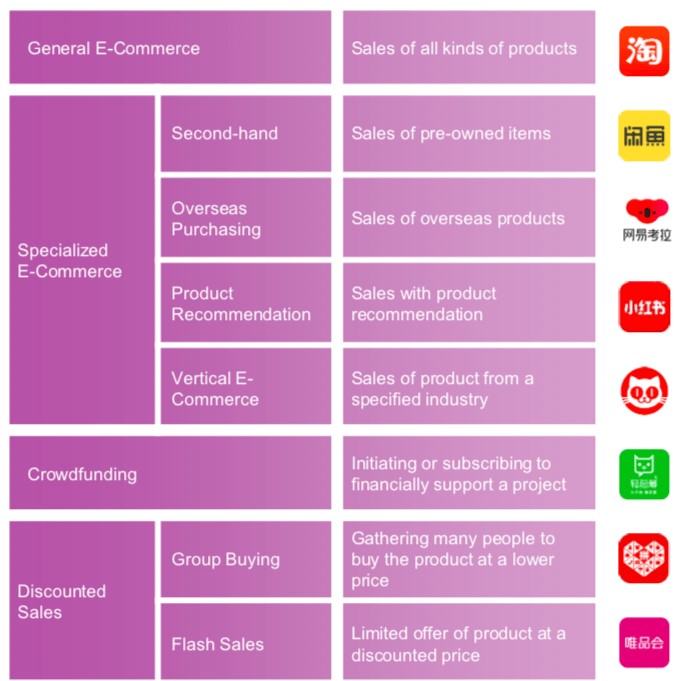 (Image source: Hi-Com)
Best fitting E-commerce platform in China: audiences
The Platform's audience is often a deciding factor for brands to join a certain marketplace. The percentage of female shoppers, age, education, income and time spent on specific platform will play a crucial role for brands.
Platform size: The platform's audience size matters. However, it is also essential to bear growing trends in mind. For example, four years after its creation, Pingduoduo became larger than JD (Jingdong) based on its registered and active users.
Location: For luxury businesses, it is necessary to aim for the wealthier cities in China. Whereas other businesses might instead target second or third-tier cities dependent on their products. However, the brands that target top tier cities may find their competition to be much more ambitious.
Case study 1: Offline market entry of Aldi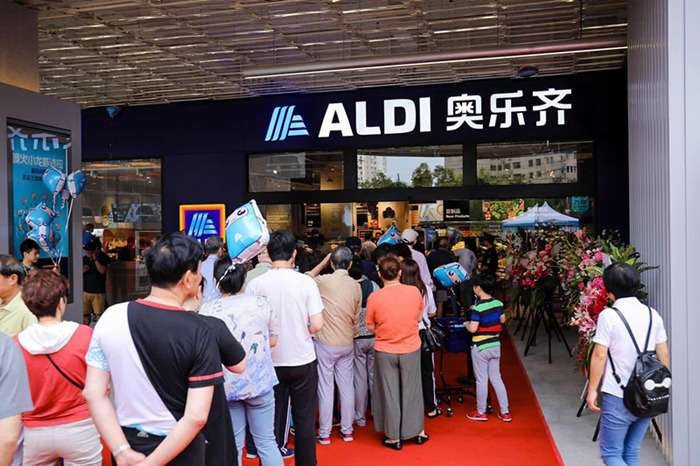 (Image source: Hi-Com)
Aldi has been selling goods online in China since 2017 via Alibaba's online retail platform, Tmall. The platform is a great tool to test the local needs in those second and third-tier cities.  In 2018, Aldi launched an online flagship store on its site.
After creating brand recognition and a strong marketing image, Aldi opened three different stores in Shanghai. After the first store opening, Aldi launched a mini-program on WeChat. They offer instant delivery to customers within three kilometers of the Shanghai locations.
Foreign brands often struggle when coming to China as they are unfamiliar with local tastes, shopping habits. However, Aldi overcame these struggles by collecting its own data via online platforms.
Business model: different types of E-commerce accounts 
When entering China's E-commerce space, both the platform's business model and your brand's business model should be "on the same page".  Here are some models to choose from:
–  Regular Local Enterprise: registering on a platform as one of the local businesses (even fully foreign-owned corporations), requires a Chinese business license.
–  Regular Overseas Enterprise: registering on a platform as an overseas business that wants to use a cross border channel, to be a platform supplier, or have an overseas brand marketing station (for marketing only, not for sales), also requires a foreign business license and foreign bank information.
–  Flagship store: available for Local and Overseas Enterprises on various platforms. Flagship means "branded" and requires a trademark.
–  Supplier of the platform: Is not an actual account, but more of a supplier contract.  Suppliers provide products that are sold on Tmall, JD mall, Tmall's membership store, Alibaba's Hema and many other markets. They also require a manufacturing and hygiene license.
–  Personal store: a personally owned store where anything can be sold, usually a small business/DIY type of store. This requires a Local ID.
–  Exclusive Distributor: similar to a local enterprise, an exclusive distributor is a representative of one or two brands that have an exclusive distributorship right with those brands. For Tmall it would be a TP (Tmall partner) and would require a brand's letter of authorization.
–  Brand station: In RED/Xiaohongshu. The brand station is a brand account that is used for communication and marketing.
Brands have multiple options to choose from with regards to Chinese E-commerce platforms. This can vary from working abroad, to working with local partners or hiring a local team.
According to a platform's business model, brands will need to structure their marketing and sales operations accordingly. On PingDuoDuo with group buy priority, brands will need to consider a special price structure for different group sizes. On Xiaohongshu, a review and advise platform brand should work closely with content creators in order to generate traffic and sales. JingDong requires strong marketing on its platform, as well as knowledge on PPC type of advertising.
It is important to understand local shopping and product searching habits. It is also important to remember the specifics of each E-commerce platform and the top priorities for your brand planning to operate on local social E-commerce or media.  Localizing your brand's message or even brand name is also critical for the brand's success.
Brand investment levels 
Different E-commerce platforms in China require different levels of investment. Some Chinese E-commerce platforms take a commission from the sales you make and also charge for platform usage fees, template feels, marketing tools fees and take deposits.
TMALL:
When opening a flagship store on Tmall, it requires an average investment of 30,000 USD (dependent on the type of commodity, as it can vary from 20,000 to 100,000 USD).
Minimum monthly sales volume of the store: One million RMB +
Marketing: To try and reach one million US dollars in sales per year, it is likely that you will need to spend at least $10,000 USD each month on marketing. This means roughly 12% of your gross will go into advertising.
Agent (TP) fees: 10-20%
JingDong:
Managing a business on JingDong (JD.com), can be as expensive as Tmall, or even more.
Enterprises will have a commission of 4-6%. Local businesses will be expected to pay 1000 RMB /150 USD as a monthly platform usage fee, whereas foreign enterprises will be paying 1000 USD per month.
However, the store design template is free.
JD also has a lower safety deposit (10,000 – 100,000 RMB dependent on the industry, and 100,000 RMB applies for high-risk products such as cars, electric bikes, etc.)
Pingduoduo:
This platform is probably the most cost-efficient as no commission is collected from retailers for using the platform.
Whilst the safety deposits are also very low, with a maximum payment of 10,000 RMB/1500 USD.
It is free to enroll and the advertising on the platform is still reasonable (CMP is the cheapest of all of the platforms above).
Red/Xiaohongshu:
It will cost 300 RMB annually to use this platform.
The safety deposit is around 20,000 RMB/3000 USD.
In order to use advertising on RED, another 20,000 RMB shall be charged to the ads account.
Chinese E-commerce platforms and O2O 
Brands are no longer required to lock themselves in expensive yearly contract with premium offline location to be able to take advantage of offline coverage with the help of online channels. The gaining popularity concept of pop up store solves many problems for brands and improves their online performance providing a new topic of discussion and buzz around the brand.
Case study 2: Pop up store of Magnum Ice-cream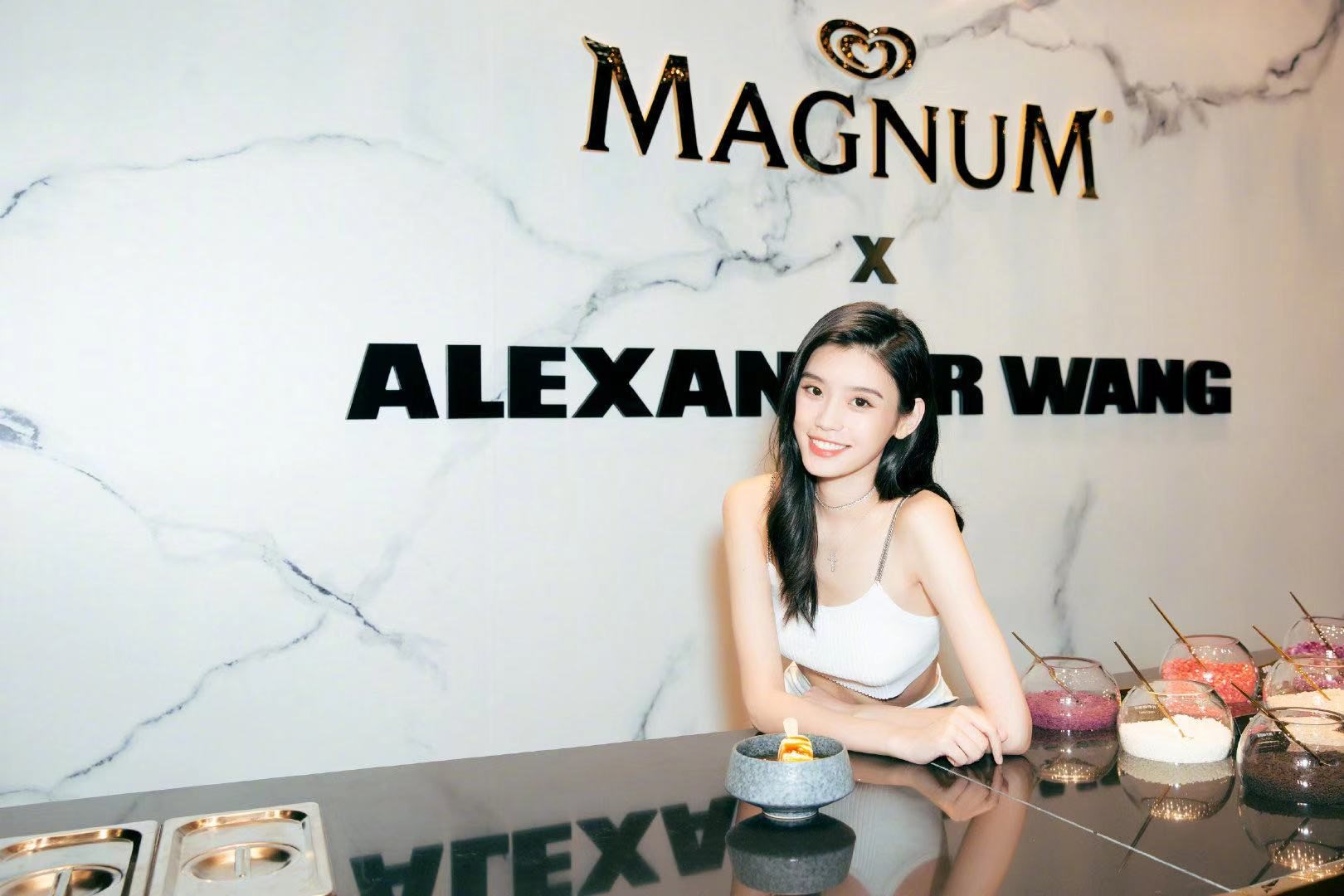 (Image source: Hi-Com)
As from 2013 Magnum is experimenting with pop-up locations in China. Beijing, Shanghai, Nanjing and Chengdu, are the chosen locations of the brand for a spring-summer time. It jointly opens an artistic pop-up Pleasure Store with famous designers such as CÔMME des GARÇONS, Rei Kawakubo and Alexander Wang. Also, Magnum invites celebrities and KOLs to heat-up event discussions on social media platforms, as well as encourages consumers to share their visits by uploading photos to social media.
Jing Tian and Ming Xi were invited to share their in-store photos prior to the grand opening of the pop-up store, to trigger people's curiosity and stimulate fans' willingness to retweet and preheat the offline event.
According to Kantar Media, Magnum cooperated with various social media KOLs, invited them to visit and share their store reviews, leverage KOLs' influence to communicate with consumers and trigger social media engagement.
Such as KOLs on:
–  Weibo KOL (Frequency山鸡)
–  Douyin KOL (秋圆圆带你吃成都)
–  Red KOL (Irene林恩如)v
Consumers standing in the long queue are encouraged to subscribe to Magnum's WeChat account and uploading photos on Weibo for the chance to get a full refund for their purchase; at the same time, authorizing Magnum to obtain consumer information with the aid of social media that could be managed for future customer care.
The #Magnumpleasurestore# hashtag on Weibo received 530 million views, and over 10,000 discussions.
This blog post was originally published by Melchers' Partner Hi Com, an international communication and localisation agency. The original post can be found here.