China's automotive aftermarket presents huge commercial potential
---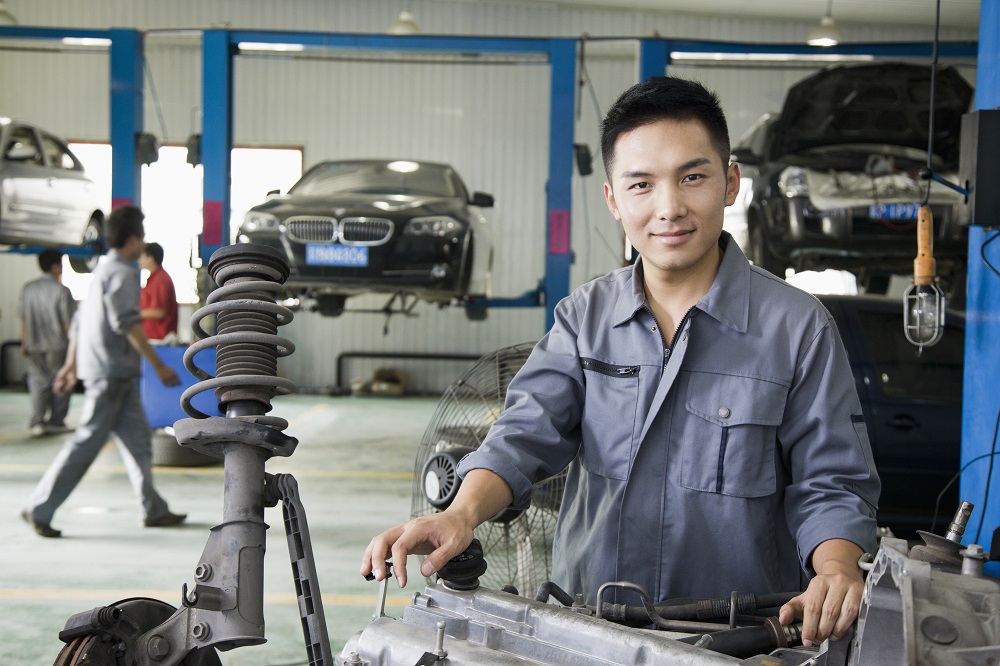 China's automotive market has grown impressively over the last decade. Associated markets such as the automotive aftermarket can easily be left out of the limelight, but it's a colossal and highly impressive market in its own right.  The aftermarket is concerned with the manufacturing, remanufacturing, distribution, retailing and installation of vehicle parts, chemicals, equipment and accessories. In this article, we'll look at its rapid development in China, current distribution channels, what the future holds and how businesses can enter the market.
The rapid development of China's automotive aftermarket
China's automotive aftermarket is the largest in the world, having taken the prestigious title from the US back in 2007. At the heart of the market's growth is rising underlying automotive demand, following rapidly increasing family disposable incomes as well as an increase in the overall population. Alongside the growth in new car sales is a burgeoning Chinese used car industry. This has all worked in favour of the automotive aftermarket, with the growth in car sales feeding into a growth in aftermarket sales.
With an ever-growing aftermarket, both jobs and market entry opportunities are forecast to increase. The automotive aftermarket industry is now generating considerably more revenues in China than any other country involved in the market. In fact, by 2022, it's forecast that revenues of the Chinese automotive aftermarket will exceed a staggering $281.8 billion (Source: Frost & Sullivan).
A tipping point in the Chinese automotive aftermarket was reached in 2018 when the average age of vehicles in China reached over 5.0 years old, though still significantly less than the average age of cars in more mature, developed economies. Once a vehicle reaches that age, the demand for aftermarket services rises at a higher rate. So following the same experience as other developed societies, Chinese automotive aftermarket growth is accelerating now that the average vehicle age has hit this level. (Source: Ipsos Business Consulting):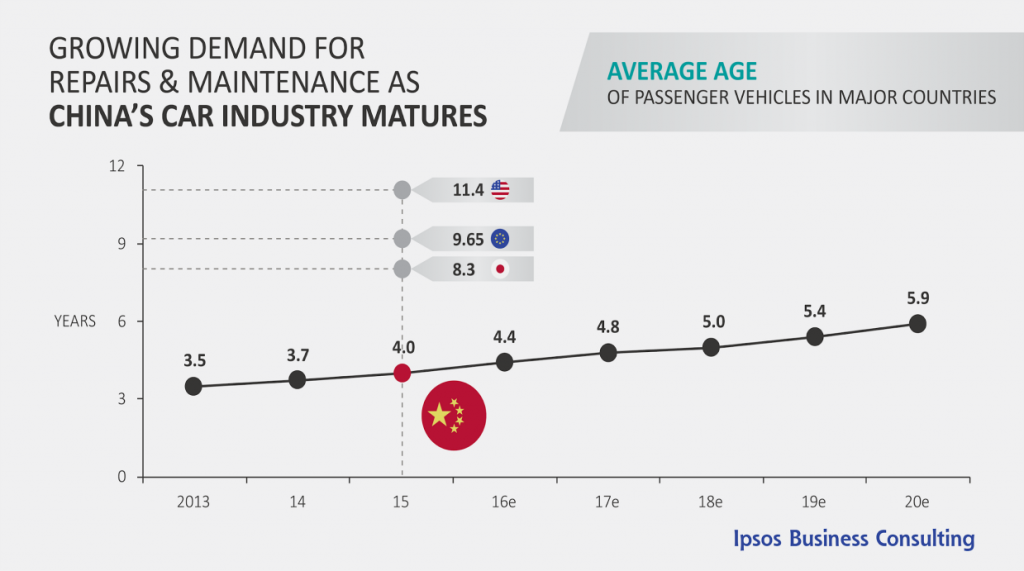 Source: Ipsos Business Consulting
In addition to the increasing age of passenger vehicles, government support, changing consumer behaviour, coupled with emerging e-commerce channels are driving China's automotive aftermarket growth. The Chinese government provides suppliers across the industrial auto chain with incentives to increase their presence and also aims to improve aftermarket transparency by allowing sales of original equipment service (OES) parts by independent suppliers. Besides, as warranties expire and cars are re-sold, the owners will seek light service channels with attractive cost-performance ratios, which draws the consumers from OES to independent aftermarket (IAM) players. By 2020, the IAM market share will reach 65.3% becoming the main stream of the auto parts market (Source: PwC).
Automotive aftermarket suppliers will need to provide core products but also become more high-tech
A significant part of aftermarket growth comes in the form of consumable parts, parts that are replaced according to mileage. For example with items like motor oil, batteries, brake pads, spark plugs, lamps, wiper blades, coolants, and various automotive chemicals. But the development of new automotive technologies will extend the type and range of automotive aftermarket services offered by suppliers. Currently, the Chinese government is pushing for increased use of new-energy vehicles (NEVs), to prevent excessive emissions from both petrol and gas vehicles. The government has maintained a solid tax exemption for consumers purchasing NEVs, in the hope of increasing usage, acceptance and reducing pollution (Source: Reuters).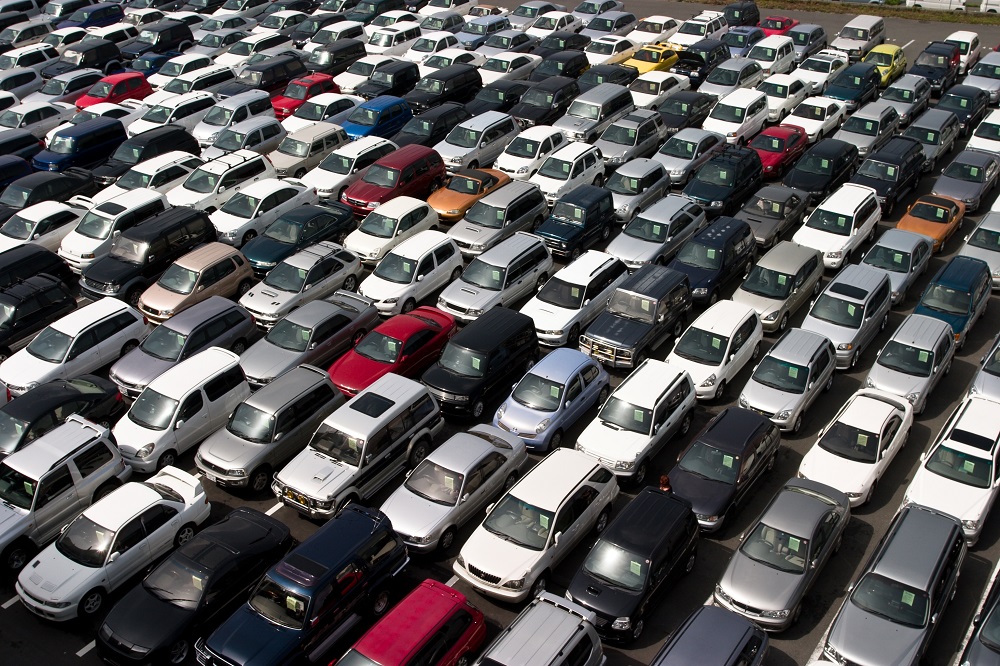 Other developments have seen China contribute to the self-driving car industry in an effort to reduce travel times and increase passenger safety. Machine learning and AI are a key part of this. These industry movements have allowed tech giants to become more involved and invest in the development of autonomous driving.
Such developments will increase the need for more high-tech aftermarket suppliers to service the colossal Chinese car market. For example, new aftermarket agreements have been made with international manufacturers including Ford and Volvo as well as other foreign technology partners (Source: TechCrunch).
What are the current and evolving distribution channels of aftermarket parts in China?
There are a wide variety of distribution channels in China's automotive aftermarket. The three primary channels are 1) Auto 4S groups, essentially dealers that represent multiple brands; 2) OES providers which are service chain stores and 3) the growing independent aftermarket. All the major channels are heavily investing in providing online platforms (Source: Duxes).
Driven by the explosive expansion of the market for IAM services, the digital platforms including O2O (online to offline), B2B e-commerce, and B2C e-commerce are expected to expand rapidly for the following years. B2B e-commerce channels have become an emerging trend for auto parts suppliers, as they optimize parts distribution efficiency, enlarge parts distribution coverage, especially in areas where parts suppliers do not have a strong presence and obtain first-hand information on market demand so as to streamline new product development and optimize inventory management.
Whereas B2C e-commerce also presents high growth potential, especially for on-demand maintenance products and auto accessories, B2C e-commerce platforms are evolving towards both parts and service providers as most of them are either building internal service capabilities or cooperating with offline workshops to provide O2O services. Recently, the domestically prominent e-commerce player, Alibaba, has established a joint-venture with Zhejiang-based wheel and tire manufacturer Jingu's subsidiary car care platform Qiche Chaoren ("Car Superman") and Jiangsu-based Kangzhong Industry Investment's auto parts B2B e-commerce platform, Carzone, to target the Chinese auto aftermarket.
Regulations and policies are stimulating China's automotive aftermarket
China joining the World Trade Organisation (WTO) was a significant factor in the increased development and growth of the automotive aftermarket. This enabled greater involvement from international companies within China which in turn, helped to promote investment and the development of the market.
New regulations and policies are predicted to increase significantly over the next decade, with the emphasis from the government on servicing new energy vehicles (NEVs), driverless and connected vehicles with modern aftermarket parts and technologies.
When it comes to market order, China's National Development and Reform Commission (NDRC) has been actively promoting initiatives which spur competition and improve price transparency for products, replacement parts and services.  The "Measures for the Administration of Automobile Sales" issued by the Ministry of Commerce, effective from July 1, 2017, has highlighted a fundamental overturn of the unitarily licensed automobile dealership. Brand licensing is no longer mandatory, and both licensed and unlicensed dealers will be permitted. This change will encourage greater competition and shift pricing power away from OEMs.
Opportunities for foreign investors looking to enter the market
The development of the already booming automotive industry in China will allow for further investment and further opportunities for market entry. With the increasing numbers of automotive users, a wider array of areas have opened up for businesses to enter this market in both a B2B and B2C capacity. Options include:
– Finance provision
– Parts distribution
– Franchising developments
– Opportunities to work with existing suppliers.
The current focus on NEVs by the Chinese government and the high-tech industry means opportunities proliferate for further business involvement in China's push for a cleaner, more efficient future – in both vehicle sales and the associated aftermarket sales. You can read more about how China's automotive market , presents exciting opportunities for foreign car makers and other industry-related businesses in our recent Melchers' article.
What does the future hold for China's automotive aftermarket?
There is likely to be greater diversification in the automotive aftermarket via e-commerce platforms, especially in O2O parts, retail, repair, maintenance services and integrated direct warehouse sales and distribution.
Both B2B (supplying aftermarket workshops) and B2C (direct to consumer) e-commerce platforms are likely to be major game changers in the traditional aftermarket supply chain and are already having a significant impact (Source: Ipsos). 
How Melchers can support foreign businesses in China's automotive aftermarket
The automotive aftermarket in China will undoubtedly see strong growth in the years to come and offer opportunities for foreign companies to participate. But when entering China it is imperative for any brand to understand that China is a unique market which requires a carefully crafted approach. Market profiling, sales, channels, gaining access to decision makers, after sales service and training, pricing, brand protection, and promotional activities are only some aspects which need to be considered for a China strategy. Especially for small and medium-size enterprises the costs and challenges of doing business in China can easily be overwhelming. Choosing the right local partner to be successful in China will be paramount.
Melchers is the local agency of several well-known international automotive application suppliers in China. Thanks to our strong technical and industry expertise, our dedicated team of qualified professionals constantly strives to satisfy our customers' requirements with highly reliable and cost-effective products and technical solutions. Our wide range of products cover from spare parts, including genuine OEM parts for passenger cars, trucks and buses through software application, for sheet metal forming as well as automation and production control software solutions to tools and aluminium products for automobile and component production. Our customers consist of automotive OEMs, component and parts suppliers, OEM assembly line builders, engineering companies, parts wholesalers and trading companies.
To learn more, please contact us at [email protected].