AdaptHEAT ™ Innovative Solution for Hot Bonding Repair on Airbus A350, Boeing 787 and other Omega Stiffened Structures
---
1. INTRODUCTION & OBJECTIVES
Appropriate curing of the patch resin and the adhesive layer is an essential step to secure the integrity and the sound mechanical performance of a bonded composite repair. The A350 B787 fuselage panels are carbon laminate structures reinforced with "Omega"/"Hat"-shaped carbon stringers. When heating a patch for repair, this complex structure makes it very difficult to achieve an uniform temperature distribution, while this performance is called imperiously for certification of the operation.
This technological issue has been challenged by GMI together with Airbus, within the frame of an EU funded Cleansky R&D project (NEWCORT). Thanks to its results to the development of the corresponding industrial solutions, GMI is now presenting to the operators a solution that is perfectly adapted to the problem in terms of performances and of conditions of implementation by the field technicians.
2. SYSTEM'S CHARACTERISTICS
AdaptHEAT™ has been developed by GMI around an innovative heating circuit to develop uniform temperature distribution on a surface up to 80 x 80 cm of an "Omega"/"Hat"-stiffened panel. The innovation consists in a specially designed heating circuit with a certain electrical zoning «adapted» in power to the geometry and thickness of the structure, including sub-areas to develop heat accordingly to their thermal reactions. It is made to be associated with the GMI state-of-the-art bonding console Anita EZ that implements its unique control software for handling two zones of heating control and is programmed strategy to handle the thermocouple sensor data. For one type of stringer family, the operator selects the system according to the dimensions and the installation is made simple thanks to a template supplied appropriately.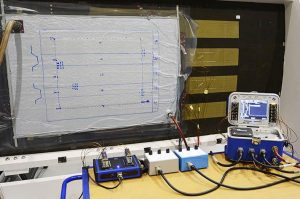 3. SYSTEM'S PERFORMANCE
The system has been tested on actual structures and gives excellent performances that match the expectations for a structural repair .The graphic below shows how on a surface of 80 x 80 cm, stiffened by "Omega"/"Hat" stringers, all temperatures are grouped in a window of 140°C +/- 5 °C thanks to the «adaptation» of the heating circuit and its temperature control process handled by the console ANITA EZ.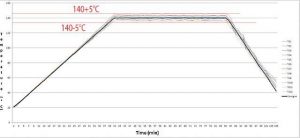 4. APPLICATIBILITY – IMPLEMENTATION
The principles adopted for this design make AdaptHEAT™ solution applicable to all "Omega"/"Hat"-stiffened structures, like those  on Airbus, Boeing, Bombardier etc. Due to variations in stringer dimensions among constructors a family of products has been defined, accordingly, in the form of "kits". It is highlighted that, in all cases, the standard ANITA EZ hot bonder can been used, meaning that there is no need for additional investment in hot bonders. In addition, GMI / Melchers offer a a special consulting training service to customers who decide to be supported for the delivery and initial implementation of the solution, through our network of experts in Europe & Asia.
About GMI AERO
GMI AERO, based in Paris, France, is recognized worldwide in technology for advanced composite structural repairs. Over the years, GMI has achieved significant recognition: whether for composite manufacturing applications or aircraft maintenance, GMI has always invested in the research and the development of appropriate equipment for this field. At the same time, GMI's knowledge of material science together and technology has allowed them to develop and market a catalog of equipment and services for advanced structure repairs. These developments have been the result of regular cooperation both with aircraft manufacturers and end-users (i.e., airlines and MROs). Today, the company's business activity is worldwide, cooperating with major aeronautical stakeholders in Europe, the USA, Canada, and China.
For more information about GMI Aero, please visit the website www.gmi-aero.com.
About Melchers
The Melchers China organization is a member of the globally operating Melchers Group. Headquartered in Bremen, Germany, C. Melchers GmbH & Co. KG is privately owned and was founded by Carl Melchers and Carl Focke in 1806. Establishing its first Asian branch in 1866 in Hong Kong, the company has been doing business in Asia ever since. The Melchers Group has been active in the aviation industry in Asia through its business unit Melchers Aviation Technical Service (MATS) since 2004. Today, MATS is the local agency of several well-known international aviation suppliers in China. Its product range extends from aircraft parts, and components, including cabin interiors, specialized tooling for Airbus and Boeing repairs through ground support equipment (GSE) to IFS-supplied products. The customer base consists mainly of aircraft manufacturers (OEMs), airlines, maintenance service companies (MROs), aircraft leasing companies, and other service providers in the aviation industry in China.
Melchers handles sales, inquiries and provide technical services to customers throughout China.
More information, please contact: [email protected].