Retail Strategy Best Practices, Tricker's in China, from Mike Hofmann, Managing Director at Melchers in Beijing
---
We talked to Mike Hofmann, Managing Director at Melchers China, about why and how the company decided to choose Tricker's – an English brand with over 190 years of history – as one of the latest additions to their portfolio for the Chinese market.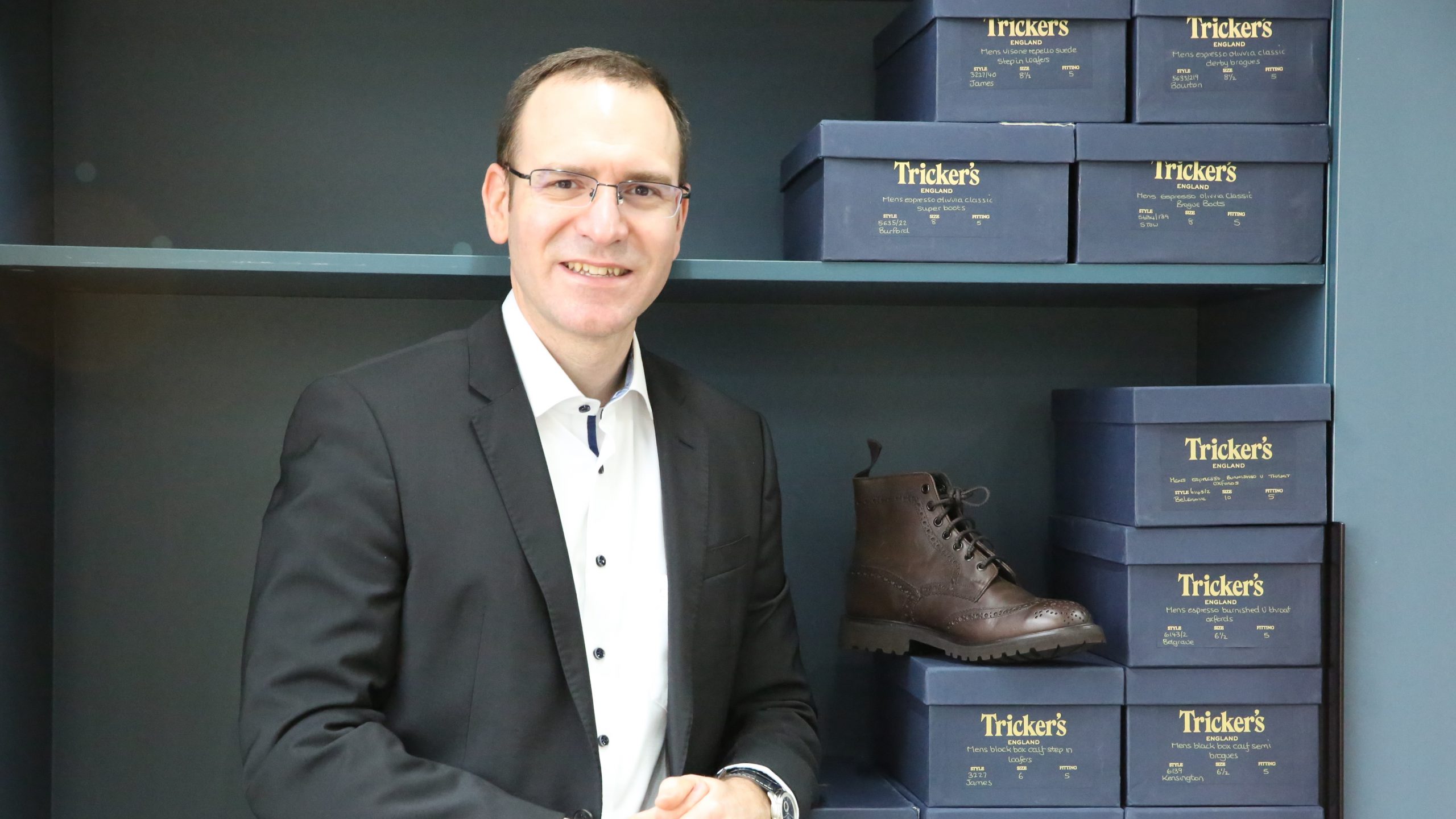 "Mike Hofmann, Managing Director at Melchers China"
Image Source: Mike Hofmann
Melchers is a German company that has been operating in China for over 155 years. Part of the services include retail and operations management for luxury and premium brands. Since recently, Melchers is also representing and selling Tricker's products. The premium-positioned English shoe brand excites consumers with its beautiful signature designs, craftsmanship and commitment to sustainability. All products are handmade in the brand's factory in Northampton in England using special yarn and stitching. Shoemaking still follows the original processes and customers can expect to wear their shoes for 20-30 years. A core philosophy of the brand is that products should be made to last: When damaged, all products will be repaired in the brand's selected service centres. And finally, the shoes are so comfortable that "You never forget your first pair of Tricker's!".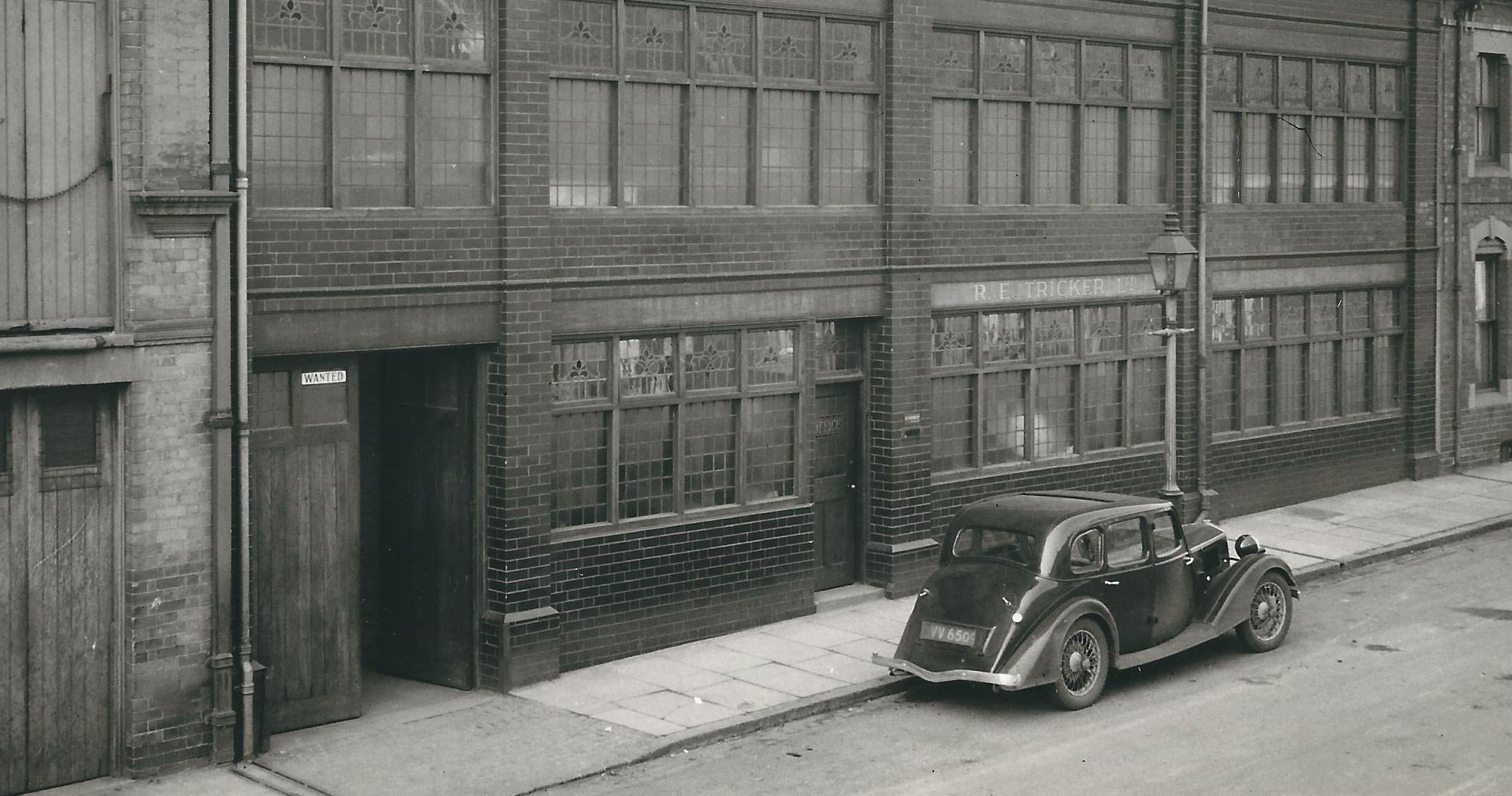 "Tricker's Factory in Northampton"
Image Source: Melchers China
We wanted to understand how Tricker's journey in China started, how the strategy based on craftsmanship and sustainability was adapted to the local market and how Melchers was able to pull off such an impressive local launch of the brand.
Why did you choose Tricker's as a brand to represent in China? How did you make this choice and what potential did you see?
Melchers has been successfully operating and selling luxury brands such as watches for many years and has been on the lookout for new brands with potential to expand the product portfolio. At the same time, Tricker's was already being sold in Hong Kong and parts of China and was searching for a reliable distribution partner. From our experience at Melchers with the watch brands we knew that there was a strong local demand for handcrafted premium products. We also did respective market research and looked at the comments consumers were making online about the shoes. We evaluated the product and characteristics, and were convinced of the potential. It was a good match for both sides, also in terms of values of the two companies. The collaboration started formally in summer 2020 and has been built up step by step since then.
Tricker's is a niche product, it is not a mass product like a sneaker. We know that consumers in general and a big enough market segment in China are very interested in handcrafted products with a premium positioning and focus on sustainability. We observed this market need with our watch brands over the past years.
Did you have to adapt the product for China?
In general the shoe fits Chinese feet very well. Our most popular shoe styles are Bourton and Stow, which are based on the lasts created in 1937 to celebrate the coronation of King George VI. While the anatomy of Chinese feet is different compared to that of consumers in other parts of the world and we were aware of that being a potential risk, the current styles fit well and are very popular. What is adapted sometimes with seasonal collections are the leather and the color, but all products are still handmade based on the original product design in the factory in England.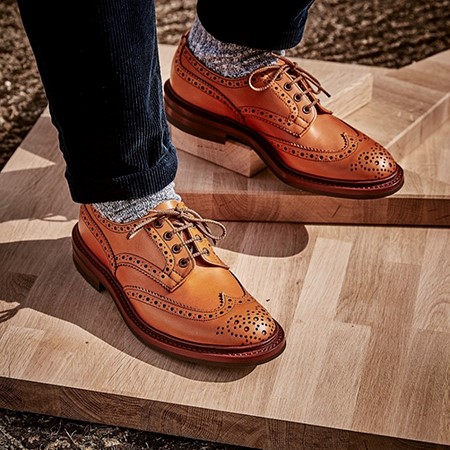 "Bestseller Product Bourton Brogue"
Image Source: Melchers China
What is Tricker's marketing strategy, and how will it be different in the Chinese market?
We use the same marketing messages and positioning as in the UK. What we adapt are the channels and methods to deliver the messages. In China, the focus is much more on digital including the local platforms WeChat, Xiaohongshu and extensive KOC (Key Opinion Consumer) collaborations, also called influencer marketing. Our most important task at the moment is to build brand equity and brand awareness. Our key foci in the messaging is on educating the consumer about the English origin, the production process and the value of the product. In the UK, the brand is very well known and has been recognized with the Royal Warrant, awarded by His Royal Highness the Price of Wales, which is a testament to the quality of our products. Celebrities like Prince Charles, Daniel Craig and David Beckham wearing the products certainly helps us in China as well.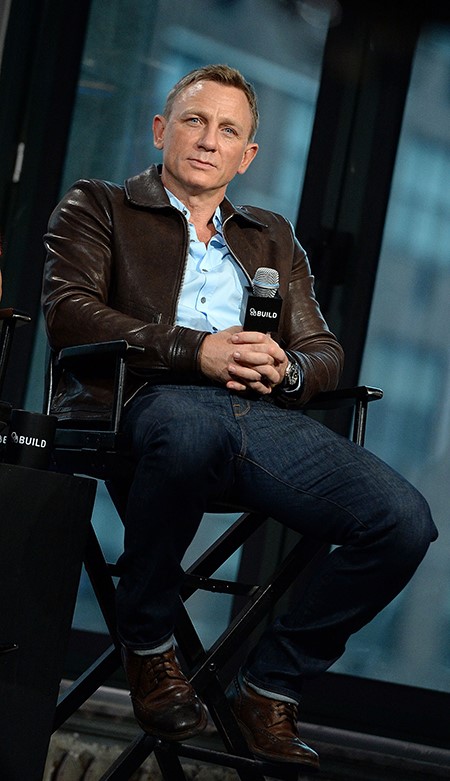 "Daniel Craig wearing Tricker's"
Image Source: Melchers China
As next step, we will promote our made-to-order and bespoke services, which we are also offering in China in our authorized service centre in Shanghai. For the future, we are considering brand collaborations for joint shoe collections or a specially designed shoe style for China.
What distribution strategy do you plan to use?
We just opened our first authorized service centre in China – located in Shanghai – in October 2021. This centre will provide repair and maintenance services to our existing customers and also sell our most popular shoe styles. We chose Shanghai because of the large local demand for this type of products, purchase power of local consumers and because we found the perfect partner there. We also work with multi-brand retailers all over China and sell Tricker's shoes online. In the next 3-5 years we plan to open a flagship store. The location has yet to be defined but it will most likely be either Shanghai or Beijing. In smaller cities, we plan to open more service centres to reach consumer groups there as well.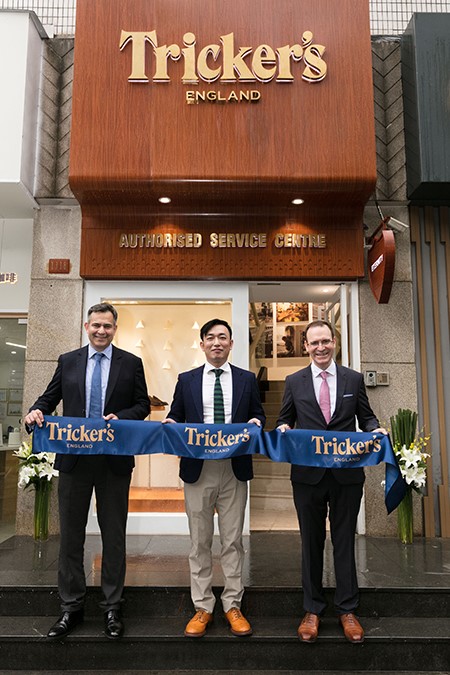 "Opening of the authorized service centre in Shanghai in October"
Image Source: Melchers China
In summary, we have a clear distribution strategy which focuses on slowly building up the network. We target bigger Tier 1 cities but if we observe demand or inquiries in smaller tier cities we might decide to expand there too. We are collecting and evaluating a lot of data to observe trends and stay close to the market. Our distribution strategy follows an omnichannel model with both online and offline points of sales. Having said that, we believe that our product is rather an "offline product", customers need to try the shoes, understand the quality, uniqueness and sizes, before a purchase decision is made. Our online channel strategy is very important for marketing in China, it is not ROI driven but rather supports the offline channels and drives traffic. Only in real stores we will be able to engage customers on a five senses level, for example by feeling the softness of the material or the lightness of the shoe.
What is Tricker's design language?
Tricker's uses a clean design language emphasizing the quality, comfort and durability of the products. The brands want to focus on the craftsmanship and functionality aspects of the shoes. In our branding we use a limited number of muted colors as well as both colored and black & white photographs of the products, people, production process and lifestyle topics.
Sustainability is at the core of the brand. Can you explain more about this aspect, and how it is so relevant in today's times?
Tricker's and we at Melchers believe that people would like to keep the things they love for as long as possible. This is why Tricker's is crafting shoes that last 20-30 years if well maintained. With our products consumers purchase something unique, with a history, yet timeless, a product that becomes part of your lifestyle. In addition, we hope that in today's fast changing world where the lifecycle of many products spans a single season only, Tricker's products can bring stability and support through their comfort and quality commitment to the live of individuals.
Tricker's executes sustainability on several levels: economic, ecological and social sustainability. The brand contributes to ecological sustainability by recycling and waste reduction through its shoe repair services that are offered in many locations worldwide, such as in Shanghai and Beijing. Almost all elements of Tricker's shoes can be repaired or replaced. Tricker's also works with Olivia leather, which uses olive leaves for the tanning of leather rather than chemicals. The brand also believes in producing, sourcing talent and services locally where possible in order to reduce emissions caused by long transports.
What were the store design requirements for the first service centre in Shanghai?
We knew that this was a very important project for us since the authorized service centre would be Tricker's first physical location in China. This store would affect the perception consumers would have of us, influence our positioning, and set the tone for further design activities which would have to be aligned. While it was important to showcase the heritage and uniqueness of the product, we also needed to appear modern and timeless. We wanted to keep the clean look of the existing repair store and make it a good fit for the local, very dynamic neighborhood. And we imagined drawing references to the craftsmanship, materials and unique production process we are so proud of by using wood, leather, stainless steel, as well as stitching and handcrafted details throughout the retail store. We feel that we have achieved a very good balance and are really pleased with the clean yet high impact effect. The store is bright and the customer flow is well planned and natural. The team in the store has reported that the window design is in fact very effective and constantly attracting passers-by into the store. The sales and service numbers of the first months look very promising as well and we look forward to further growth over the next months.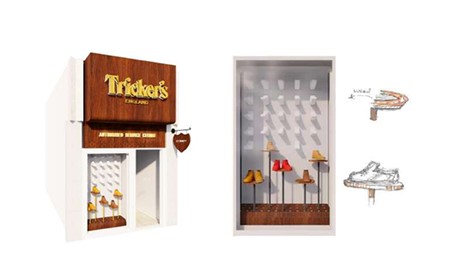 "Façade design for Tricker's authorized service centre in Shanghai"
Image Source: 5 Star Plus Retail Design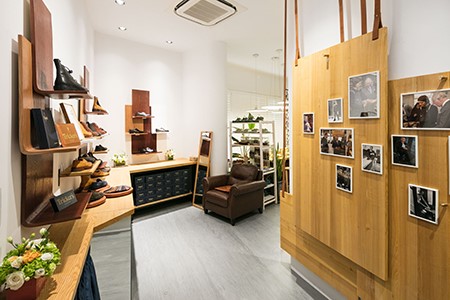 "Clean lines and natural materials characterize the repair and retail store"
Image Source: Melchers China
This blog post was originally published by Melchers' Retail Partner 5 Star Plus Retail Design, an interior design company specializing in the branded design of retail stores and restaurants. The original post can be found here.