BRAND COLLABORATIONS IN CHINA
---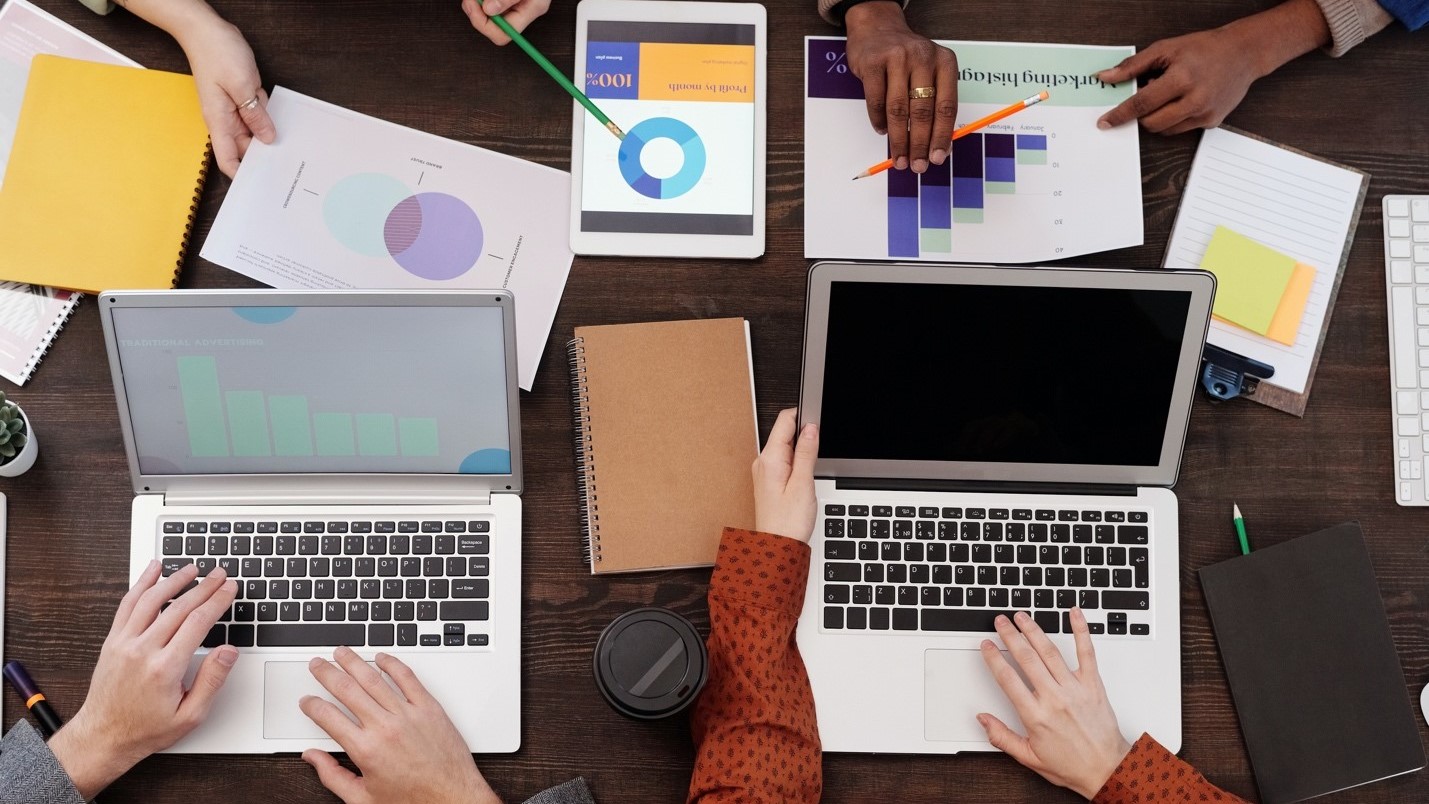 In the past year, a trend that can be seen in the China market is the rise of brand collaborations between brands from a range of different categories and industries, both foreign and domestic. This article will answer three of the questions that brands are most likely to ask when it comes to brand collaborations.
As a brand, why would I want to collaborate with others?
Even for brands that are seeing high sales in China, collaborations can be beneficial. It can introduce the brand to new customers, bring a sense of novelty and excitement, improve brand image and relevancy, and create new opportunities to expand.
Since both brands will have their own previously established customer base, cross-branding will allow them to share their audience. This would generate more attention for the collaboration than each brand could have brought on its own and help both brands stand out from their competitors. Moreover, especially for brands that have already been in China for more extended periods, collaborations can make the brand feel new and boost interest among potential customers while also renewing consumer focus. For newer brands, collaborations could be beneficial in allowing the brand to showcase its personality. Finally, for foreign brands, collaborations with domestic brands may assist with brand localization within the China market.
How do I choose whom to collaborate with?
Brand collaborations can vary widely, with brands in entirely different categories collaborating. Example collaborations include apps, service providers, gyms, restaurants, FMCG brands, etc. However, before choosing whom to collaborate with, each brand needs to know precisely who their target audience is and ensure that whomever they collaborate with would appeal to their current target audience or have a customer base that the brand would like to expand into. As a result, sometimes brands from seemingly completely different realms will collaborate, introducing their audiences to each other and expanding the overall reach of both brands. Additionally, the personality and image of the collaborating brands should be complementary so as not to confuse the target audience and cause them to turn away.
Understanding the current trends and what products or services are popular among consumers could also be beneficial, as brands could use the opportunity to collaborate with other brands who fit into these trends.
What are some ways I can collaborate with others?
There are countless ways for brands to collaborate. Some of the most common methods can include developing a special edition product together, offering bundles that cross-promote products or services from the two brands or developing a campaign or experience that involves both brands. Collaborations do not need to be just limited to online campaigns, offline promotions could also be developed in conjunction, and traffic could be driven from either online to an offline location or vice versa. Ultimately, it depends on what type of brands are collaborating and how they can create additional value for both brands by combining the products or services that they offer.
Examples of brand collaborations
Collaboration between Netflix, Pearl Studio, and Lady M (August 2020):
Netflix, Pearl Studio, and Lady M partnered together to develop a limited-edition gift box for mooncakes, which included an interactive light-up mooncake lantern and Lady M mooncakes. The gift box was developed for the animated musical, "Over the Moon", produced by Pearl Studio and distributed by Netflix. As an adaptation of the traditional Chinese folktale on Chang'e that explains the origins of eating mooncakes during the Mid-Autumn Festival, the animation and overall theme of the gift box fits neatly into the festival for which it was developed.
The collaboration successfully balanced all three partners and created a product that respects the Mid-Autumn Festival's Chinese traditions without seeming like a gimmick. The contributions of all three partners were able to bring more value to the product, making it an interactive product that consumers can enjoy.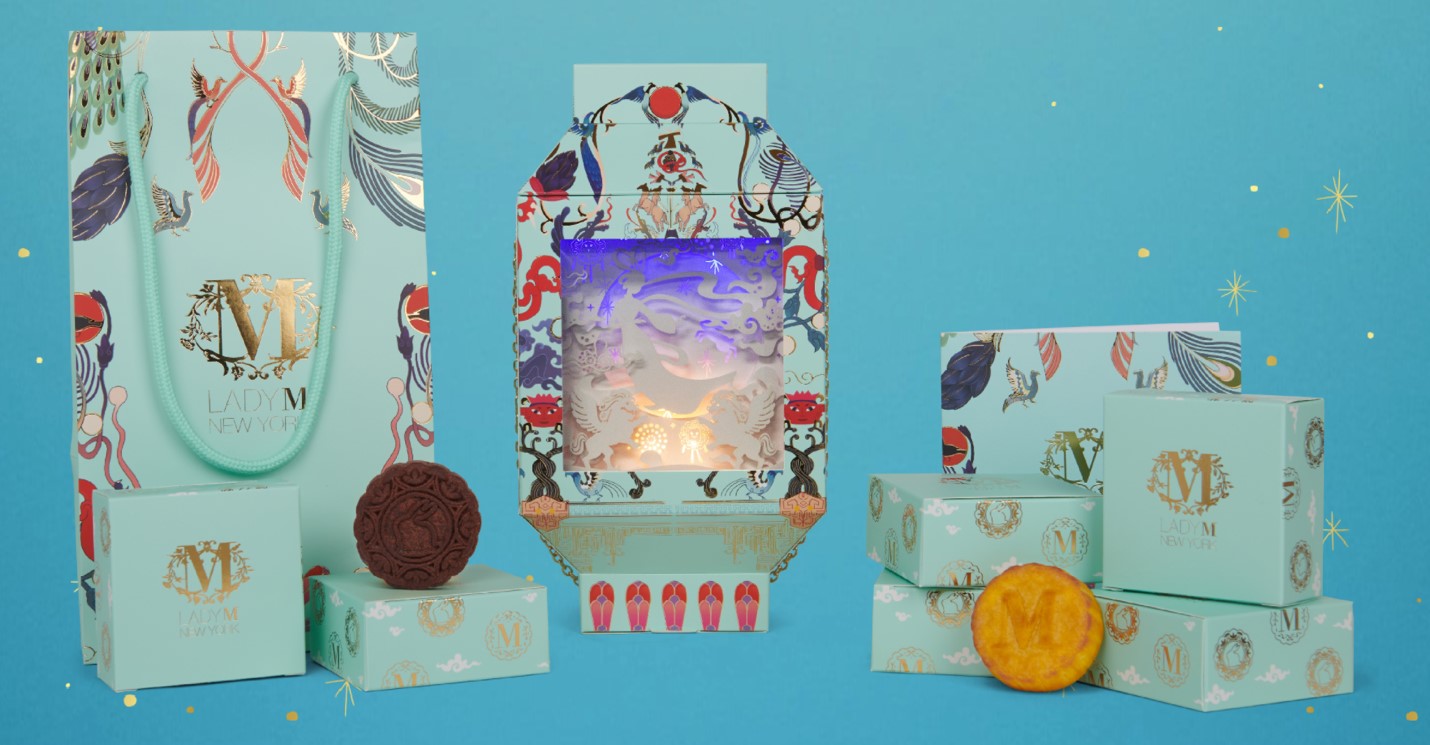 Image is taken from: https://www.ladym.com/mooncake2020
Collaboration between HeyTea and Fenty Beauty (April 2020):
For this collaboration, Fenty Beauty, a beauty brand started by Rihanna, and HeyTea, a wildly popular beverage chain in China, developed an exclusive packaging for the "Cheeks Out" Cream Blush, along with co-branded items such as make up bags and vouchers. However, these limited edition items were not for sale and could only be won through a lottery conducted on Weibo. To enter, users needed to follow both brands' Weibo accounts and complete a series of tasks.
By giving out the products in a giveaway, instead of selling the bundle in a product drop, the co-branded products gain a sense of exclusivity and novelty, both of which are extremely appealing to the millennial and Gen Z target audience HeyTea and Fenty Beauty share.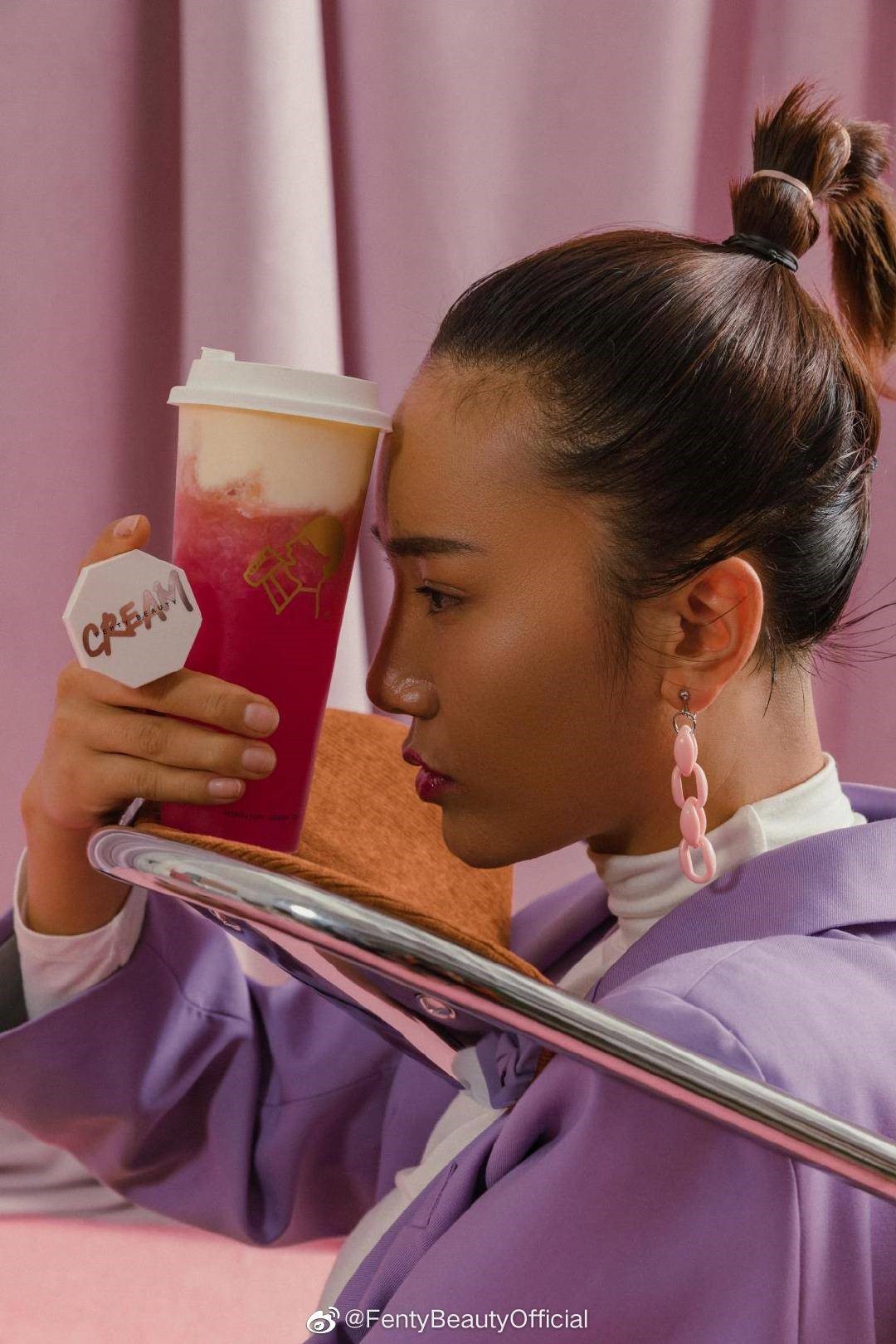 Image is taken from Fenty's Official Weibo Account (@FentyBeautyOfficial)
Collaboration between Gucci and Doraemon (January 2021)
Recently, Gucci developed a limited edition product line for the Year of the Ox in China, partnering up with the Japanese cartoon character Doraemon. To fit with the Year of the Ox theme, both the character's original look as a blue robot cat and a redesigned look with bovine horns and a golden coloring were used. Marketing of this new product line was spread across WeChat, Douyin, Xiaohongshu, Weibo, and an offline pop-up location.
The partnership allowed Gucci to utilize nostalgia marketing, as Doraemon is an icon from the childhood of many Chinese millennials and is one of the most recognizable Japanese cartoon characters in China. For Doraemon, the collaboration was able to bring about a sense of prestige and novelty to a cartoon character that has been around for a relatively long time.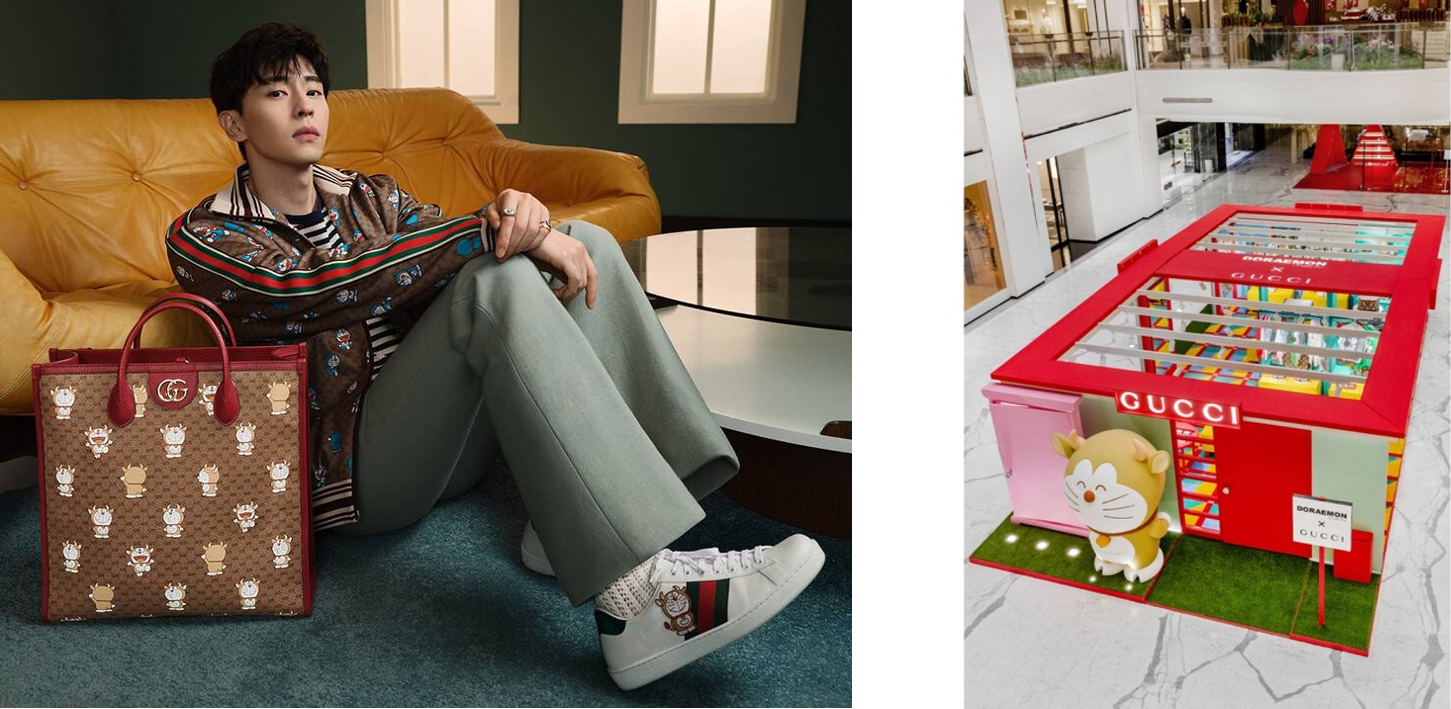 Images taken from Gucci's Official Weibo Account (@GUCCI) and from https://www.gucci.cn/zh/st/capsule/doraemon
How Melchers supports foreign companies in exploiting the Chinese market potential
In order to profit from the great potential of the Chinese consumer market, it makes particular sense to look beyond the large, developed cities and turn to emerging regions. However, these cities and regions are mostly unknown to foreign companies. In addition, the demands of local consumers on products and their marketing differ greatly from those in Tier 1 cities. Thus, there is a risk that companies with little experience in China will miss the new Chinese consumption growth wave.
Melchers can help foreign companies to develop and roll out their own China strategy. We have been active in China business for 155 years and maintain offices in 18 Chinese locations. As a result, we have a strong national and local presence and understand the individual needs of consumers across China. We help our brand partners to understand the Chinese retail market, correctly assess the market size and competitive situation and identify short, medium and long-term opportunities for growth. In doing so, we are able to assume the entire retail function of our brand partners.
To learn more about our services, please contact us at [email protected]