UNDERWATER PELLETIZING EUP, PROCESS WATER AND DRYING SYSTEM EWT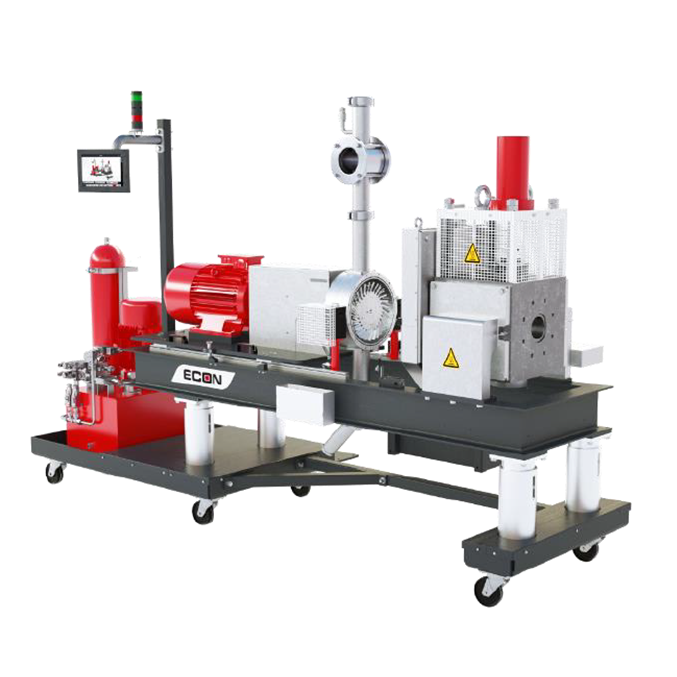 ECON is the leading provider of underwater pelletizing technology with thermally insulated die plates. The die plate is fixed on the heated carrier body. The thermal insulation ensures that the melt in the die holes will not "freeze". ECON pelletizers are not sensitive to fluctuations in output, thus making the pelletizing process extremely reliable and guaranteeing high operating efficiency.
In addition, the compactly and clearly designed ECON water treatment and drying system is an effective solution for drying the pellets. The continuous filtration of process water ensures low maintenance requirements. Because the pellet dryer is easily accessible and free of dead spots, material or color changes can be done quickly. The complete pelletizing line can be easily adapted to different production conditions, thus increasing your flexibility.
All thermoplastic materials can be processed
Push-button start – automatic, fast and safe
No "freezing" of die holes due to the thermal insulation
Constant pellet quality
Optional components for your individual requirements
Low labor and maintenance costs
Bypass piping not required, less water loss
Continuous process water filtration, optional with automatic compact band filter
Easily accessible pellet dryer, free of dead spots for simple and safe cleaning