On-Board Wheelchair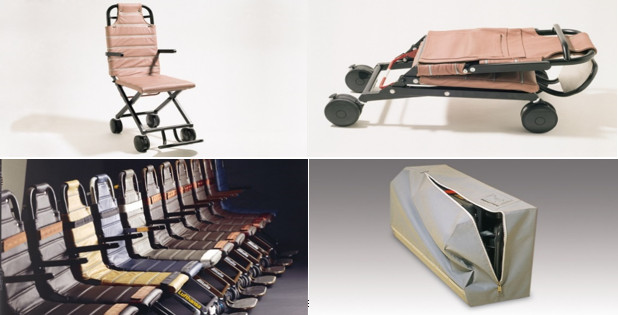 The On-Board Wheelchair 2218-series supports the transport of disabled passengers. Light-weight design, durability, safety, appearance, and ease of operation for the cabin crew are just some of the highlights of this design.
Flip-up type armrests allow easy transfer to the individual´s passenger seat. The rear wheels have brakes incorporated which are always accessible by the accompanying person. Three belts – shoulder, leg, and foot belt – allow safe transport and transfer in the aircraft cabin.
Product characteristics
Ergonomic design
Light-weight 12 kg / 25 lbs
Accessible to all types of aircraft
Customized according to the seat layout we can provide a stowage rack. The L-back shell is made of aluminum honeycomb and covered with a canvas cover which can be opened by a zipper. The on-board wheelchair is fastened inside with an additional belt.
If space can be made available in existing stowage compartments, a protective bag and strap assy for fastening can be provided.